Microsoft this week began its uphill battle to make business intelligence software pervasive across corporate computing through capabilities it will build into its Office desktop suite and infrastructure software spearheaded by SQL Server.
Even before the official general release of SQL Server 2008 (Nov. 7), Microsoft took the unusual step of outlining the next interim release of the database that features a set of business intelligence (BI) add-ons and integrations designed to make the technology easily available via familiar Windows-based tools.
The company made the announcements last week at its second annual BI conference.
At the conference, Microsoft said its goal is to build a BI platform using the next version of SQL Server, code-named Kilimanjaro, SharePoint Server, Office Communications Server (OCS), Office Performance Point Server and the Excel desktop spreadsheet program along with other Office applications. The Kilimanjaro release, slated to ship in the next 14 to 20 months, is an interim release of the database that adds BI features and is not a major upgrade.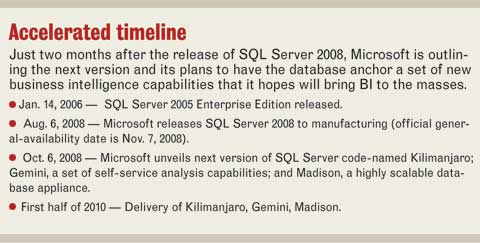 "The next big rework and rewrite update of SQL Server will be delivered 24 to 36 months from the RTM of SQL Server 2008, which was in August of 2008," said a Microsoft spokeswoman.
The intent is to simplify complex business intelligence technology so more users can access data across disparate sources, aggregate that data, build charts and reports using Excel and share the resulting applications via SharePoint and OCS.
Microsoft also plans to include in the mix a highly scalable data warehousing version of SQL Server that will be offered in an appliance by its hardware partners.
"They are trying to break the mold on how BI has been done and set the stage for how BI will be done going forward," says John Hagerty, vice president and research fellow at AMR Research.
Today, BI is constrained mostly by the resources IT can dedicate — both financial and manpower — to building and deploying all the pieces needed on both the client and the server.
Microsoft wants to explode that constraint by giving users self-service tools to build their own BI applications via access to corporate data sources such as SAP.
However, Microsoft says the platform will ensure IT maintains governance over access controls to corporate repositories and individual files.
But it won't happen overnight.
"[This] is not going to be available until 2010 so we are talking a long term vision and not near-term deliverables," Hagerty says.
He says Microsoft is wise to announce its intentions so customers can "get their heads around it" given the drastic changes Microsoft seeks in whittling down monolithic business intelligence systems into just another set of desktop applications.
The Kilimanjaro version of SQL Sever is slated for release in the first half of 2010 with a focus on self-service and reporting capabilities for BI. Microsoft plans to have a community technology preview (CTP) available within the next 12 months.
The self-service features are wrapped up in a set of technologies code-named Gemini, which let users build BI applications that can access data across many sources, compile the data into charts and reports, and share those results.
Microsoft also plans to integrate the unified communications capabilities of Office Communications Server, which includes instant messaging and VoIP, to aid the sharing of business intelligence results.
Microsoft says much of the Gemini technology will be tied to Excel, allowing users of that desktop program access to the self-service analytics.
To pull off the BI transformation, Microsoft faces an uphill battle against established players who have owned and defined the BI landscape for a number of years.
In addition, those pure-play vendors are now working under the umbrella of the giants in the software industry: Business Objects is owned by SAP, Cognos has been acquired by IBM, and Hyperion is part of Oracle.
A report by Gartner earlier this year said Microsoft still "lags behind pure-play vendors in terms of metadata management, reporting, and dashboard and ad hoc query capabilities."
Those are deficiencies Microsoft plans to systematically address.
With Gemini, Microsoft plans to keep IT at the top of the food chain.
"One important thing about Gemini is managed self-service," says Fausto Ibarra, director of product management for SQL Server. "Managed means IT is in control of the process where today end-users use Excel without control of IT or without control on data."
With Gemini, IT will be able to see how data is being shared, have control of security on the data and will make data sources available to users.
Those sources could include ERP data, mainframe applications and independent software programs.
Another key feature of Gemini is in-memory BI, which analyzes large amounts of data in memory in order to speed performance.
"We believe the combination of Kilimanjaro with the Gemini technologies plus Madison will enable use to truly democratize BI and make it available to everyone in the organization," said Ibarra.
Last week, Microsoft also unveiled plans for Madison, a highly scalable database technology, that would be available in an appliance. Madison integrates SQL Server with technology the company acquired when it bought DataAllegro earlier this year.
DataAllegro developed large-volume data warehousing appliances, and Microsoft hopes to scale Madison to handle hundreds of terabytes of data. Last week at its BI conference, Microsoft showed a demo using 1 trillion rows of data.
Microsoft also plans to use data quality technology acquired when it bought Zoomix in July to enhance the quality of available information. Microsoft would only say the technology will come in "future versions" of SQL Server.
CTPs of Madison will roll out in the next 12 months with the appliances available in the first half of 2010. Dell, HP, Unisys, Bull Systems and EMC have signed on as hardware partners.