The first large-scale 802.11n wireless LAN, at Morrisville State College in upstate New York, is delivering pervasive, high-bandwidth mobility for students, faculty and staff. The last update in a series on this pioneering deployment.
Network World has been covering Morrisville State College's deployment of 802.11n WLAN as it unfolds to study the challenges facing early enterprise adopters of 11n. This is the fourth update (part 1 here, part 2 here, part 3 here) and will be followed soon by a special Network World Clear Choice Test, comparing the performance of the 11n network with that of Morrisville's early 802.11abg network. (Compare 11n products with our online buyer's guide.)
Patrick King, a senior at Morrisville State College, remembers the exact moment when he discovered the impact of the college's change-over to a 802.11n WLAN.
This small state college, covering nearly a square mile of rural central New York state, is the first fully-deployed, large-scale 802.11n deployment. The WLAN, based on gear from Meru Networks, covers 44 buildings, outlying horse barns and a working dairy, and a satellite campus 30 miles away. It serves about 3,000 total users, with an average of 1,000-1,500 logged on.
So far, IT staff, students such as King and faculty agree the college is getting what it paid for: in many cases, noticeably better throughput compared to 802.11abg, better signal quality and range, and higher throughput over longer distances. The Meru access points have two 802.11n radios, one in the 2.4GHz band, one in the 5GHz band. In theory, the available bandwidth is 300Mbps per radio, though actual throughput may be one-half to two-thirds of that, shared by the number of clients associated with a given radio.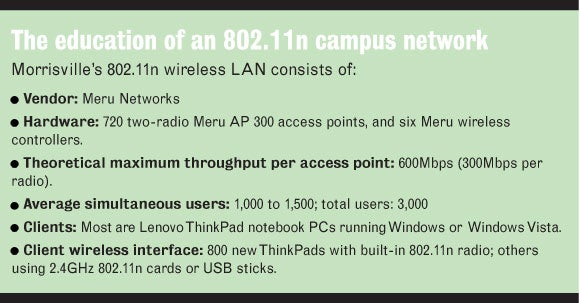 The school needed to replace an obsolete pre-802.11 Raylink WLAN, which had a date rate of 1Mbps to 2Mbps at best, and was limited to the dorms and a few other buildings and wanted to extend it to cover the entire campus. Given the costs and work involved, MSC decided to take an additional step: to jump to 11n, with its promise of greater bandwidth, range, and reliability, as soon as those devices became available in the fall of 2007. It chose Meru in part because the Meru access points can all be set to use one channel, instead of a checkerboard of different channel assignments. Meru touts the benefits as being simpler management, faster hand-offs, and greater scalability.
In the summer of 2007, the college rolled out the first phase of the new WLAN, installing just over 720 of Meru's existing dual-radio 802.11abg access points. Then, last October, Morrisville started replacing those devices, one-for-one, as Meru ramped up release of the new dual-radio AP 300 11n devices. The replacements were done by late November with no problems, according to IT staff, and the network has been stable.
Student Patrick King, a software developer, was one of those who noticed an immediate difference. King knew during the summer of 2007 that "11n was coming." Copying a classmate, he was an early buyer of a third-party 11n adapter card for his college-issued Lenovo ThinkPad (about 800 freshmen have ThinkPads with 11n built-in). The combination ran well on the new 11abg network. "It was fast, but I expected a lot better," he says. Then, one day last October as the 11n access points were being installed, King started to download a gaming video over a wireless connection. "I started the download, and then it just went through immediately. I went 'whooooooo!'" he recalls.
King's roommate is "senior-ish" Ryle Watson, an entrepreneurship major, and he heard that "whooooooo." Less interested in wireless networking details, Watson is equally emphatic about how 11n has increased his ability to stay connected, anywhere, anytime. No matter where he is on campus, he's been able to jump from 7 simultaneous instant messaging sessions to as many as 26, and his four e-mail accounts are always open.
Both students have also noticed improved coverage and signal quality with the 11n access points. When the 11abg devices in their dorm, which was built recently and includes wired Ethernet ports, were replaced with 11n devices, wireless coverage expanded at once to cover the entire building. "I don't need the [Ethernet] jack in my room anymore," Watson says.
While there are no outdoor access points, the college planned to have the extended 11n range of the in-building devices spill outside to cover parking lots, where commuting students spend a surprising amount of time, and the spaces between buildings. Watson noticed that for the first time, he could stay connected while walking between campus buildings.
The 11n net also makes possible their weekly bowling night: every Thursday, they meet with other friends for pizza and rolling virtual strikes via their wireless Nintendo Wii gaming consoles.
The main problems they've run into are due to a lack of what they call "network education" – simple, practical explanations from the Morrisville IT department on how to best use the network, on issues with software drivers, on Microsoft Vista and the like.
The WLAN has been a major addition to the college's compact infrastructure. The data center houses about 50 rack-mounted servers, mainly from IBM, a HP storage area network, and an Enterasys data network of M7 core switches and hundreds of C2 wiring closet switches, linked via a gigabit fiber backbone. A 90Mbps data link joins the college to the Internet. The voice network is based on a Nortel PBX, recently updated. The main software applications include Banner's student information system, with attendant Oracle database, Microsoft Exchange for e-mail, and the WebCT course management software (now part of Blackboard).
The 11n access points are wired into the nearest Ethernet switch, and talk to one of six Meru controllers in the data center. The access points draw power either from a nearby outlet, using adapters the MSC IT staff call "wall warts," or via Power-over-Ethernet from the switch, based on the existing 802.3af standard.
Using PoE creates some limitations for the dual-radio Meru devices, as it does with most other 802.11n vendors. That's because in most cases, to run both 11n radios at full power with all antennas, requires about twice the wattage possible with existing 802.3af systems. The Meru access points have 3 pairs of external antenna wands, to transmit and receive the two spatial streams created by the Atheros 11n chipset (future chipsets will have three or even more streams). The access point constantly selects the two pairs of wands that provide the best signal for those streams.
The access point can sense when PoE is used and in effect shuts off one of the three antenna pairs, which can lower signal quality and range somewhat. In one limited test, Morrisville used power injectors to boost the juice to a group of access points, similar to the level that the pending 802.3at standard will introduce. They found that the number of access points that could "hear" each other jumped by 25% to 30%. That jump can translate into greater signal strength, the need for fewer access points, or more access point choice for wireless clients, according to MSC's Matt Barber.
"Is the difference enough to justify upgrading to early 802.3at power injectors, or do we wait for the regular switch upgrades [to add 802.3at]?" he asks. He doesn't have an answer for that yet.
Meru's E(z)RF Network Manager application lets the IT staff remotely manage, configure, and troubleshoot the entire WLAN. The application was only recently released with the various updates needed for the 11n access points. MSC's Matt Barber can see WLAN health and statistical information in charts and graphs for the entire network or for each controller with its associated access points, drilling down for details. This "dashboard" for each controller also can be accessed via a Web interface from anywhere in the network.
E(z) RF NM can be set up to trigger alerts when, for example, an access point shuts down. But at this stage, Barber says he has done little with that feature. Security or other updates can be applied to all controllers and access points centrally, instead of individually. Barber can select from a wide range of reports on network-wide trends or the performance of specific access points, based on data saved and aggregated by the application. Graphs can show the rise and fall of network traffic over a 24-hour period, or the busiest access points by number of client associations, for example.
Barber is still experimenting with these capabilities. "We use E(z) RF to get a snapshot of the moment, and we can see signal strength 'heat maps,'" he says.
His chief complaint with the software is that it's not easily customizable. "When I open E(z)RF, there are certain things that I want to see," he says. "When I open it today, there are some graphs [on the dashboard] that I want to see, and others that I don't need to see or don't want to. I want to be able to change my views, or change the time periods or change the colors."
The MSC IT staff came up with a naming convention for the access points: the displayed device "name" includes the MSC building code where it's located, the number of the nearest classroom or office, and the unique access point number. The system helps IT staff quickly narrow down the location of the device.
What happens next?
From the IT viewpoint, not much beyond refining client-side configuration, setup and support based on experience with users, and gradually developing a more in-depth view of the WLAN's inner workings through the Meru network management software. Wireless security is based on Wi-Fi Protected Access (WPA) on the 2.4GHz band, and WPA-2 on the 5GHz band, tied in with the college's Microsoft Active Directory.
From the users' viewpoint, almost anything. For Jean Boland, MSC's vice president of technology information services, the 11n infrastructure is a kind of "field of wireless dreams" – build it and people will find uses for it.
That's already happening in the mind of Chris Nyberg, the academic dean for the college's school of agriculture and natural resources. One of the school's, and the college's, biggest programs is the nationally-known equine science program, with concentrations in such areas as breeding management and racing management It was one of the first at Morrisville to deploy laptops for what are now about 300 students (90% of them female). And Nyberg has plenty of ideas percolating on what to do now that the laptops have wireless access in the outlying horse barns, which also have classroom spaces.
Horses, it turns out, are highly data intensive.
At the foaling barns, about 50 pregnant mares are nearing birth in mid-February, with a Meru 11n access point blinking manically over the stalls. It's a critical time, with students staying onsite round the clock, with sleeping bags piled in the classroom not far from open laptops, most of them wireless. The mares actually have a wireless "birth alarm" that's not part of the Meru net, but does trigger e-mails and cell phone calls to the students designated to watch over the foal's birth.
Nyberg wants to use the high-bandwidth WLAN to transmit ultrasound images of the mares to detect pregnancies a month and a half earlier than is possible now, and share those images with off-site veterinarians. That kind of connection will also make it possible for the vets to monitor the health of embryos that are transferred to other mares who carry the embryo to term.
He also sees the possibility of linking wireless digital cameras with microscopes and wireless projectors or wide-screen televisions. The images can be used let entire classes evaluate the motility collected from stallions. A variety of wireless handheld devices, including bar code scanners, can now be used for precise data collection, and billing, with each of 100 or more horses at any of the college facilities.
The data is vital in such things as electronically keeping track of exercise schedules and training logs, avoiding duplicated services, and monitoring and adjusting the amounts of hay and feed. Because the college does a lot of work with and for horse-owners from around the country, accurate billing is a pressing requirement. Nyberg is also keeping an eye on the cost of embedded chips, which could be used to uniquely tag each horse. Right now, the cost is about $35, which he says is prohibitive for large programs, but might not be for long.
"The ability to capture all that data wirelessly is very interesting," Nyberg says.