Student loan company Sallie Mae combines Coral8's complex event processing software with Tealeaf's Web application monitoring tool to fix online performance problems.
With that in mind, financial-services provider Sallie Mae late last year embarked on a project aimed at letting IT pros and business leaders keep tabs on the level of service customers are experiencing across the Reston, Va.-based company's Web channel.
With a flexible, real-time platform, IT would be able to spot system events that cause Web bottlenecks, while customer-service groups identify troubled processes, fraud teams capture suspicious transactions or account activity, and marketing executives hone their campaigns.
The project went live in the first quarter.
"We had a system issue that was having an impact on customers, and management was asking what business processes, and how many customers, were impacted. They wanted this information in real time, not later that day or the next day. . . . We didn't have that ability," says Eric Bruner, senior manager of systems development at Sallie Mae. "That's what kicked the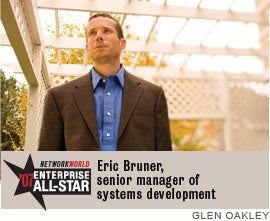 whole project off. We needed real-time insight into the customer impact when we were having issues."
Sallie Mae earns a 2007 Enterprise All-Star Award for employing emerging complex event processing (CEP) software to provide real-time insight into its multisite Web infrastructure. For the project, Sallie Mae selected three products: Coral8's Engine 5.0 event-processing technology; Tealeaf Technology's CX 6.0 Web application-monitoring software; and Advanced Software Engineering's ChartDirector chart-generating software.
Coral8 CEP crunches numbers
Coral8's CEP software is the data-crunching engine. It can process and analyze thousands or even millions of events per second, Coral8 says, drawn from sources such as network and system management software, click streams, message buses, and external data and applications.
Tealeaf's CX product is a key provider of such event data for Sallie Mae. By monitoring such applications as Sallie Mae's Web loan-origination systems, Tealeaf CX captures all kinds of data pertaining to customers' online experience, including HTTP headers, URLs, server host names and HTML source code. It also can record session information, such as the total roundtrip, Internet delivery and page-generation times for each page requested in a session.
Data that Tealeaf CX and other systems collect is fed to the Coral8 Engine, which then correlates the data on the fly. "Now we don't have to wait for data to be extracted, and we don't have to write queries against relational databases," says Bruner, who manages the Web infrastructure for Sallie Mae's 80-plus Web sites. "We are actually streaming the data through in real time, and it doesn't take us very long to write the code to look for patterns in events."
The code-writing Bruner refers to is done through Coral8's development environment. Sallie Mae's three-person team that monitors customer experience and business activity uses the CEP software to build queries that look for event patterns, such as a business opportunity or threat. Speed of development is a key feature: Joe Tooman, who is Sallie Mae's customer experience lead, and Derek Ramey, a full-time developer, have built 36 real-time applications since acquiring the tool in January.
On the presentation front, ASE ChartDirector helps Sallie Mae create pie charts, bar charts, meters and gauges as needed to customize various dashboard designs. Such dashboards let business users monitor rates of loan-application abandonment and customer attrition, for example, while dashboards tailored for IT staff help team members isolate and fix technical or content issues.
"We are doing things that are traditionally done with either Web analytic or systems-management programs, but we have a bit more flexibility and access to real time data" with the Coral8 platform, Bruner says.
Who is Sallie Mae?
Sallie Mae was founded in 1972 as a government-sponsored entity but dissolved its ties to the federal government in 2004. Today SLM Corp., its formal name, has about 12,000 employees (1,500 of whom work in IT), manages $160 billion in education loans and reported $8.8 billion revenue in 2006.
What's next
Looking ahead, Sallie Mae is working on a new application that will link Web application event data with the company's call agent desktop. Agents will be able to more quickly help customers who telephone the call center after starting a loan form on the Web by seeing where in the process a loan application was abandoned and capturing data already entered.
The Coral8 Engine "will query, in real time, to see if somebody visited our Web site, what product they were looking at, if they received any errors, and if so, what page were they on when they received the error. That information will automatically pop up on the desktop" for call center agents, Bruner says.
Sallie Mae is still in the process of quantifying its return on investment, but the gains are clear, Bruner says. Customer-related issues are resolved more quickly, fraud-detection methods are faster and Sallie Mae is able to reduce its call center costs by improving the usability of online systems.
"We don't have any measures in place to show what our return on investment is, partly because the reason we bought the product was fulfilled almost immediately," Bruner says. "It wasn't acceptable to wait hours or days to understand the impact [of a problem] on our customers. We proved that we could answer those questions in minutes and sometimes seconds. We were approved for funding on that merit alone.