UPDATE 6/17: Mozilla crippled itself today, a story from IDG News Service reports:  "Though the big 'Download Day' was set to begin at 1 p.m. ET, Mozilla's Web site was down or working sporadically all morning on the East Coast, and users still could not download Firefox 3 from the site more than an hour later."
From 6/13: Mozilla hopes that on Tuesday, June 17, it will make history by ousting IE from its place as the most popular browser. The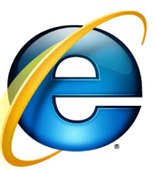 company is staging a download day with the release of Firefox 3. Equally interesting, Mozilla hopes to create a Guinness World Record for the most Internet software downloads in 24 hours. Target: five million. An article in Businessweek brings up some interesting reflections on the browser and its changing face. Web browsing is changing as the device is changing. Mobile browsing is no longer the frustrating experience it used to be, thanks to the iPhone, BlackBerry and their respective knock-offs. And so, Mozilla will also later this year release a mobile browser, challenging Microsoft and others on that count, too.
Can a single mobile browser come to market dominance the way a single desktop browser did? Would the market want that to happen? The Businessweek article seems to be already handing that crown to Mozilla. It says:
The uncertainty about which technologies will eventually triumph leaves Web site operators, handset makers, and telecom carriers stuck making difficult decisions about which technologies to offer. For consumers, that means trouble. Some Web sites are a breeze to navigate via cell phone, while others are nearly impossible. There's pressure on the industry to adopt standard technologies that would improve compatibility between browsers and Web sites. This gives Mozilla an advantage. Firefox is designed to work smoothly with other open-source software, and open-source technology is emerging as a popular choice for handsets because companies can share the costs and results.
And are IE's days numbered? The list of complaints against IE have been endless. Microsoft promises IE8, the next beta which will ship in August, to be far more developer and enterprise friendly. And perhaps the best thing that could happen to IE from a security perspective is if another browser gains market share. It will then draw at least some hacker's attention away from continuously pounding on IE. In the meantime, the mobile device is where the next battle lines are being drawn.
Go to the Microsoft Subnet home page for more news, blogs, podcasts.

More Microsoft Subnet blog posts:

Next "beta" of IE8 to ship in August, cater to IT prosMicrosoft tests Facebook knock-offSBS2008 and Essential Business Server AWOL at TechEdVirtualization, ID mgt news star at TechEd Five great giveaways for June from Microsoft Subnet and Cisco Subnet20 great Windows open source projects you should get to knowSix free security tools you shouldn't live without