It didn't take much horse sense to sniff out (with our without a nose patch) a possible marketing opportunity between race horse California Chrome and web browser Google Chrome, which of course comes out of one of the hottest California companies around.
California Chrome isn't actually named after Google Chrome -- the name was supposedly picked out of a hat, and stems from the horse being from California and having flashy white markings that are sometimes referred to as chrome on horses. Not that that would have stopped spin specialists from coming up with something like "Google Chrome: A Triple threat...a browser for your desktop, tablet and smartphone." 
+Also on Network World: 12 Chrome Extensions power users will love +
Sure enough, chipper posts emanated from Google Chrome's Google+ account as well as its  Google Chrome Twitter account, as the thoroughbred sensation  -- owned in part by a factory worker who came to call the animal "America's horse" -- ran its way to the top of the sport this spring. 
Before the Preakness, the second leg of the Triple Crown series began, Google Chrome saddled up and tweeted out:
We may be a bit biased, but we're rooting for California Chrome today -- good luck at the #Preakness!

— Google Chrome (@googlechrome) May 17, 2014
Two down and one to go, Google Chrome piped up again on June 7, the day of the Belmont Stakes, in hopes California Chrome could pull off what no other horse has done since Affirmed won the Triple Crown in 1978.
We're cheering for our Chromie today - good luck, California Chrome! #GoChrome #TripleChrome #TripleCrown

— Google Chrome (@googlechrome) June 7, 2014
But alas, Totalist won the race, and California Chrome lagged to fourth.
That's when things got really interesting. Co-owner/cowboy Steve Coburn let loose a rant in which he called Totalist's crew cowards for not racing the horse in the first two legs of the Triple Crown. He settled down after a couple of days and apologized profusely on national TV for his behavior.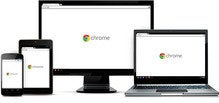 Meanwhile, not a peep from the Google Chrome Twitter account since the Belmont concluded. But in other racing news, Google has pulled ahead of Microsoft for the U.S. browser market share crown.