In case you missed the company's 12 other versions of its speech recognition software, Nuance Communications today launched Dragon NaturallySpeaking 13. The $200 Premium version is now available, and features new support for web applications (including Firefox and Google Chrome browser support), a new-and-improved user interface and 15% greater accuracy than its previous version. A $100 home version will be available in August, Nuance said, with special upgrade pricing available for existing registered users.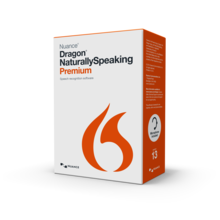 The software, which converts users' speech into text that can get placed into applications such as Microsoft Word or email platforms like Microsoft Outlook, also includes command-and-control functionality for navigating around Web sites. New features include:
Faster out-of-the-box accuracy: Nuance said its new speech recognition is so good that it can eliminate the voice-training task that previous versions required users to go through. This helps cut down the time it takes for new users to set up their application.


Built-in microphone support: Previous versions required an external microphone or headset; version 13 now supports built-in microphones on laptops. The software can automatically detect the microphones a user has on their system, whether plugged in or built into the computer.


More web applications supported: Older versions worked with Internet Explorer only; the new version supports the Firefox and Google Chrome browsers through an install-once extension. This includes being able to dictate emails through Gmail or create a document through Google Docs. Outlook.com and Yahoo! Mail is also supported with DNS 13, Nuance says.
Rick Brown, Senior Director of Product Management at Nuance, said a large part of Dragon's user base utilizes the software for help with documentation-heavy tasks. In many cases (such as a social worker or police officer in a squad car), a large chunk of people's jobs require them to write up lengthy reports, and Dragon NaturallySpeaking helps them write these faster. The command-and-control features are aimed at helping users with disabilities, or in cases where using a mouse and keyboard isn't possible or preferred (for example, office workers who might have developed repetitive stress injuries from typing or mouse use).
Dragon sent me a review copy of the software to try out – I'll let you know in a few weeks whether the software will become a "Cool Tool" in my productivity arsenal (although I'm a bit sad that it's Windows only; Nuance directed me towards its Dragon Dictate Mac software for Macintosh support).