Utah State University researchers are reporting on a new app designed to get a much better read on wildlife-vehicle collisions -- a serious situation that leaves a couple hundred people dead annually in the United States and ends the lives of about a million animals (vertebrates) in the U.S. each day.
The wildlife-vehicle collision (WVC) Reporter app, compatible with researchers iPhones and Android devices, was tested in Utah, where the mule deer is the number 1 animal involved in collisions.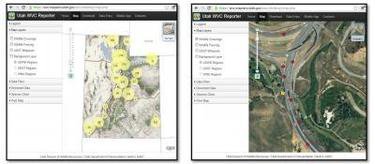 The roadkill app performed well, improving the efficiency and accuracy of reporting collisions, information that can be vital in deciding where warning signs can be placed, among other precautions. The app works with a database of information on collisions as well as a desktop web app for viewing data.
No word yet on whether the app will become publicly available (it has initially been restricted to state employees, in part to avoid redundant collision reports), but possible advances discussed in the researchers paper include allowing motorists to attach photos of carcasses to data submitted about collisions. Also, such an app could be linked with a warning system to alert motorists of possible road dangers.