Last week, IDC reported a 1.5% quarter-over-quarter drop in tablet shipments and predicted slower tablet annual growth in 2014. This came on the heels of Apple CEO Tim Cook's acknowledgement that "iPad sales met our expectations but we realized they didn't meet many of yours [Wall Street analysts]"earlier that week. IDC Research Director Jean Philippe Bouchard said "the market is still being impacted by the rise of large-screen smartphones and longer than anticipated ownership cycles."
The tablet's Achilles heel defines it – it is a content consumption device. Keyboard input is burdensome. Typing more than an email is tedious, and crunching a large spreadsheet impossible. Voice recognition today can't compete with a keyboard. Compounding its Achilles heel is a progressively cross-platform world in which the content delivered to tablets isn't exclusive.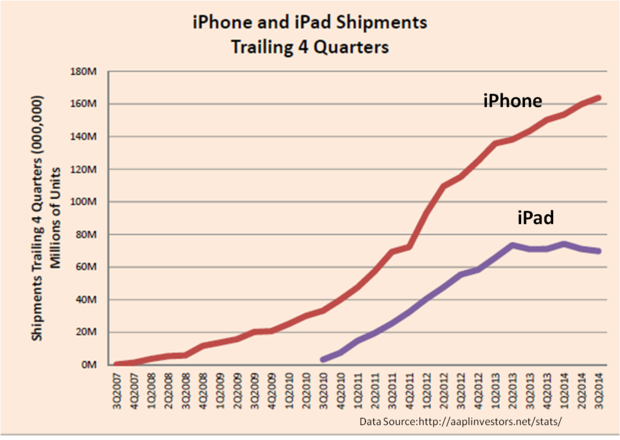 A tablet's mobility doesn't match a smartphone's and its functionality isn't as good as that of a notebook. Consumers opt for Wi-Fi-only tablets three to one to avoid the costs of 4G hardware and a second data plan. Why add a tablet to a briefcase already heavy with a notebook to also have a third device to keep charged? What need would it serve that can't be met by the other two devices? Tablets are wants because almost everyone would return home for a forgotten smartphone or notebook en route to work, but most wouldn't go back for a tablet.
The growth rate of time spent using a tablet is only 2% compared to the smartphone's 7%, according to Millenial Media. It's not just how many minutes consumers spend using tablets compared to smartphones; it's how much time the devices are available for use by consumers. Tablets are frequently left behind on the coffee table or nightstand and with a smartphone always at hand, the consumer has fewer opportunities to turn to his or her tablet.
Ecommerce and digital magazines explain the relationship between need and wants. The mobile share of ecommerce has grown from 16% in January of 2012 to 37% in March 2014, but the proportion of smartphones used compared to tablets has remained stubbornly the same - at two to one - reported by analytics firm Custora. The large tablet screen improves the shopping experience, but if one needs to buy something now, a smartphone will do.
But if one wants to read a digital magazine, a tablet is the device of choice. Digital magazine downloads grew by 170% in 2013, Adobe reported via magazine.org, and three out of four readers used a tablet. Readers spent three times the amount of time reading magazines on tablets compared to smartphone readers. Magazines are a brilliant use case of the best uses for a tablet, but with the average American spending about $14 per year, the superior magazine-reading experience on a tablet won't drive the sale of many tablets.
IDC analysts Jitesh Ubrani was asked about the opportunity for enterprises to buy large numbers of tablets, as represented by the partnership between Apple and IBM and the emerging 2-in-1 Microsoft Windows tablets like the Microsoft Surface Pro and Asus T100.
"Vertical tablet apps are specific to niches making them smaller opportunities," Ubrani said. "If the enterprise is going to consume large volumes of iPads and other tablets, applications will need to be created like those that drove the education sector to buy 13 million iPads. Enterprises require legacy support, which right now is Microsoft Windows. The iPad will need to fit between Windows PCs that enterprises know how to manage securely and simply and enterprise provided apps that employees can use on their BYOD smartphone or tablet. Though enterprises haven't widely adopted Windows tablets or 2-in-1's, these devices have legacy support and can tie cleanly into existing management and security systems."
The enterprise contribution to tablet shipments is still speculative. It could be a tight squeeze for large numbers of tablets to fit into the enterprise. Enterprises are already invested in PCs and sometimes smartphones. Adding a tablet will have to be accompanied by an application that includes something a PC or a smartphone can't do. IBM could sell the sizzle of the iPad's user interface and deliver the steak as business intelligence apps that produce software and services revenues for IBM and disappointing numbers of iPad shipments for Apple. 
An increase in tablet shipment growth will depend on Apple and other manufacturers finding more real needs and lower prices. Considering Apple's history of converting wants into needs, the company's marketing prowess shouldn't be counted out though. The company could make it fashionable to carry three devices, four if the iWatch is counted.