Wally: A high-tech networked water leak detection system
The Wally system is a wireless sensor network that effectively addresses the problem of detecting water damage from broken or leaking pipes at a very reasonable price.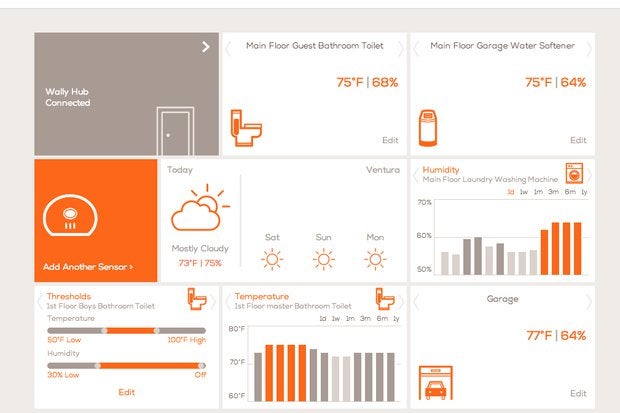 Some years ago I owned a large house that had been built in the mid-1920's and, as a consequence, it had lots of old piping and electrics. Over the course of a couple of years, I'd had most of them replaced but one day, walking past a guest bedroom I heard the faintest hissing sound. This turned out to come from the "Jack and Jill" bathroom off the bedroom and it was the sound of water under pressure (we had weirdly high water pressure) spraying out from the water hose to the toilet. It was an old hose.
By the time I discovered this the water was a half inch deep in the bathroom and it was only the door thresholds that stopped it from flooding the adjoining bedrooms. As they had wooden floors this could have been a disaster.
I tell you all this because, at the time of my new catastrophe, there was no simple solution to detecting water leaks in a home whether wired for data or not (in my house the walls were plaster on lathe and the lathe was metal mesh which turned every room into a Faraday cage making wireless anything problematic). Anyway, now there is a solution for whole home leak detection; it's called Wally from SNUPI Technologies and it is, quite honestly, brilliant.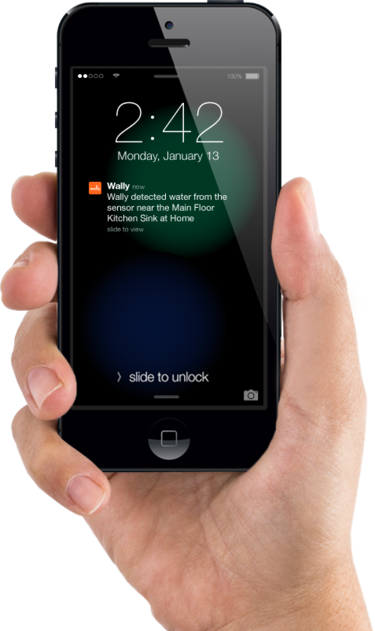 The system consists of a hub that connects to your wired network and a bunch of small wireless sensors you place in potential trouble spots. These sensors detect three conditions; water (by contacts on their undersides), temperature, and humidity (the latter are important for detecting the conditions that can promote the growth of mold. Rather than rely on WiFi, Zigbee, or Insteon technology for the hub to communicate with the sensors it uses a proprietary wireless system called Sensor Nodes Utilizing Powerline Infrastructure or SNUPI.
What's so powerful about the SNUPI technology is that it's ultra-low power and can connect devices spread out over an entire house:
[SNUPI nodes] contain an ultra-low-power transmitter that extends its range by coupling its wirelessly transmitted signal to the existing powerlines in order to obtain whole-home range … In the SNUPI system, only the base station receiver is wired directly to the powerline (i.e, plugged into an outlet). Each node in the sensor network transmits wireless signals that couple to nearby powerlines, creating signals that travel through the infrastructure to the base station receiver. In this way, the sensor nodes can transmit at much lower power because signals do not need to propagate over-the-air for the entire path to the receiver, they only need to propagate to the nearest powerline.
Setup is easy; you establish an account on the WallyHome web site, define your primary contacts (they will get email, text, and or push messages) and emergency contacts (they only get text notifications when moisture is detected) and define the locations where you'll put sensors. The kit comes with six sensors but you can add as many sensors as you like.
Next, you plug the hub into your network and into a power socket (this really should be directly into a socket rather than a power strip; power strips seriously degrade the powerline signaling). The hub shows its status with a couple of lights on the front of the device. You then place the sensors in your planned locations keeping them as close as possible to electrical outlets. The sensors are battery powered so they only need to be near sockets to maximize connectivity to the hub.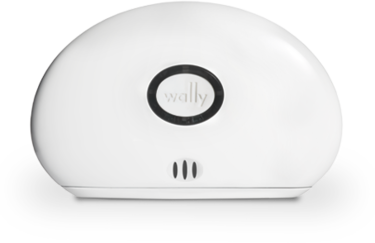 The WallyHome web site is very slick as are the companion apps for iOS and Android. You can check the status of your sensors, set upper and lower alert limits for temperature and humidity, and examine the historical temperature and humidity data (see the screenshot at the top of this article).
SNUPI sent me the Wally system a few weeks ago and because of lots of other projects in the way I didn't get around to setting it up. I wish I had because the weekend we went away the water heater started to leak and if Number 2 son hadn't heard it we could have had a much bigger mess to deal with than we did. With Wally installed we would have been alerted to the problem hours before Number 2 son noticed.
My only complaint about the Wally system (other than its rather odd name) is that the hub and sensors are all sort of Jetson-esque truncated ovoids. This means that the hub can't be stood on its edge and can't have anything stacked on top of it. Likewise, the sensors aren't "industrial." If they were cuboids with flange so they could be screwed into place it would be useful for situations like rental and commercial premises management where Wally systems could be incredibly valuable.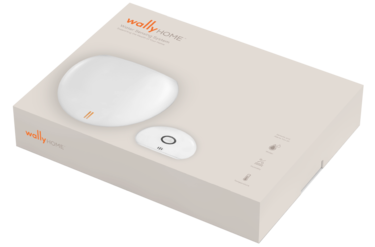 The Wally system is priced at $299 for a hub and six sensors. Extra sensors are $35 each and an extra hub is $125. There's no charge for the Web site or the apps. This is a great product that I only wish had come along a lot sooner and Wally gets a Gearhead rating of 5 out of 5.