Football season is here, which means fantasy football season is here too. But if fantasy players attempted to log on to ESPN to check their teams after most of the NFL Week 1 games had ended on Sunday, they may have been out of luck.
ESPN acknowledged via Twitter that it experienced an outage to its popular fantasy football service Sunday evening, causing potentially millions of frustrated football fans to be unable to check their fantasy teams. At 7:08 PM PT ESPN said it was aware of the issue and was working to resolve it. Less than an hour later, the @ESPNFantasy account tweeted "We're back. Thanks for your patience" at 7:59 PM PT.
A notice on the ESPN Fantasy Football app initially reported that the issue was due to routine maintenance and at one point advised users to check back in May. That message was replaced with another one, pictured below.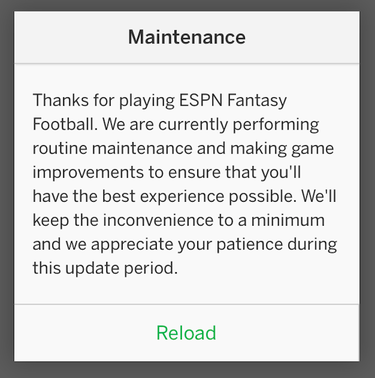 An ESPN spokesperson today said neither one of those messages were correct though. "It was not due routine maintenance, but the technical issue caused an incorrect default message to appear, causing some confusion." The spokesperson said ESPN was not releasing any more details about what the technical issue was and if it was caused by some internal error or some hosting provider.
An outage at ESPN could be a big deal; there are an estimated 41 million people who play fantasy football in the U.S. and Canada, or about 14% of the adult population, according to the Fantasy Sports Trade Association. ESPN is one of the top sites for hosting fantasy games, along with services from Yahoo, CBS and a number of other outfits. So when ESPN's fantast service goes down, many people are not happy and they take to Twitter to complain.
Perhaps the app being down isn't such a bad thing for business though, at least if an outage happens during normal business hours. A study by staffing firm Challenger, Gray & Christmas estimates that businesses could lose $13.4 billion in productivity this year if an estimated 18 million employees use two hours of work time a week to manage their teams.