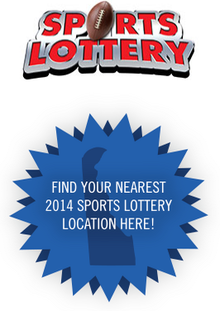 The government of the United States will not allow me to play poker online.
Sports betting is illegal everywhere except Nevada, though New Jersey looks poised to toss its foundering casino industry that potential lifeline.
And yet somehow Delaware residents – who cannot play poker online or legally bet on individual sporting events – are not only allowed but encouraged to gamble on a game of chance that carries almost impossible odds: picking the winner of 15 National Football League games against the point spread, which if you're not familiar with that term translates to calling a coin flip correctly 15 times in a row.
Run by the Delaware Sports Lottery, this state-sponsored racket is in the news today because someone almost pulled it off; he got 14 in a row, but that 15th coin did not fall his way, thus depriving the man of a $100,000 payout for his $5 wager.
Tough luck? Not really. From a story on ESPN:
No one has hit one of the 15-team, $5 parlays since 2011. The odds of picking all 15 games correctly are roughly 32,000-to-1, according to the lottery. More than 4,500 $5, 15-team parlays were placed for Week 2 of the NFL.
The government won't let me play poker online because it says I need to be protected from myself.
Who's protecting those 4,500 saps who tossed $22,500 down the toilet?
(Update/correction: Donnie Peters, editor of PokerNews.com, tweets to me: "Online poker is legal and regulated in three states, Delaware, Nevada, and New Jersey. Fully operational in all three." You'll note the absence of Massachusetts on that list, so I remain miffed.)