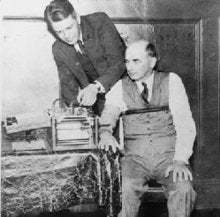 There's an interesting essay on LinkedIn this morning headlined: "Why You Must Lie On Job Interviews And What You Must Lie About.
The advice comes from Mark Stevens, CEO of the marketing firm MSCO, and offers two classic job interview questions as examples: Do you work well with others? And: Why do you want to work for our company?
Stevens' less-than-honest answers make a lot of sense … and, by the way, do not reflect well on the human-resources profession.
And while I have had next to zero experience interviewing for jobs, I have had occasion to take Stevens' advice on that second question.
A couple of newspaper internships gained through Northeastern University's invaluable cooperative education program allowed me to skip the job interview process altogether right out of college and start what was then a good job on the day after graduation in 1980.  That gig lasted 16 years until the powers that be decided they didn't want me to write my newspaper column anymore and I decided I didn't want to work for their newspaper anymore. I quit.
Being between marriages and childless at the time, I thoroughly enjoyed a four-month goof-off sabbatical, which I would recommend for anyone at a similar point and position in life.
Then, instead of looking for another newspaper job, I applied here at Network World, both because I could see the handwriting on the wall for the newspaper industry and the fact that several of my friends had already transitioned from newspapering to trade journalism. I didn't know the difference between Cisco and Sysco. But the theory in trade-publication management at the time was that it was easier to teach a journalist technology than it was to teach a technologist how to report and write.
However, over the course of four or five interviews I was continually asked a variation of the "Why do you want to work here" question. What I heard, over and over, was: "Are you sure you want to work here?"
Translation: "You've been a newspaper guy your whole life. This is a different kettle of fish. The kettle is full of all this technical jargon and acronym soup. So, pardon our skepticism, but we're not exactly sure that you're properly enthused."
They were right. I was not. In fact, when I tried merely reading Network World – then a print-only publication – it seemed to be written in a foreign language. I was not at all sure that I wanted to work here.
But I knew then what Mark Stevens is telling his LinkedIn readers today: I had to lie if I wanted to get the job. So I lied, repeatedly and, apparently, convincingly.
Eighteen years later I'm still here.