Copyright and trademark law are often the weapon of choice when corporate content producers become unhappy with how their works of used, even in cases where such uses are legal.
The Electronic Frontier Foundation (EFF) yesterday issued a report and scorecard revealing its assessment of how major service providers and social media platforms respond when copyright and trademark holders use those weapons indiscriminately.
From an EFF press release.
EFF examined 13 companies and issued stars if they met the baseline standards for what a service can do to defend its users' speech against copyright and trademark bullies.  The services could receive a maximum of five stars, based on criteria including publicly documented procedures for responses to DMCA takedown notices and counter-notices, how the services handle trademark disputes, and if the company issued detailed transparency reports.

Automattic's Wordpress.com and NameCheap were the only two companies to receive five out of five stars.  However, two other companies were recognized for going the extra mile: Etsy, for providing educational guides, and Twitter, for publishing regular and thorough transparency reports. 
YouTube, GoDaddy and Tumblr were the only three cited for failing to require a DMCA takedown notice and forwarding it to the accused party.
Here's the scorecard: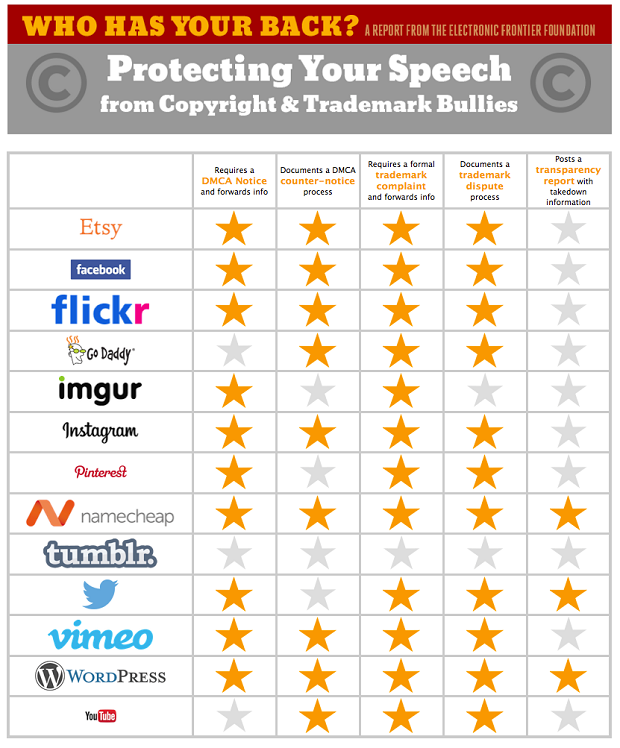 And here's where you can read the full report (.pdf).
Pushing back against copyright abusers has been a bread-and-butter issue for the EFF over the years, including:
The establishment of a "Takedown Hall of Shame."
Successful advocacy in opposition to a copyright shakedown scheme perpetrated by porn providers.
Fighting the music industry's attempt to impose copyright restrictions on giveaway CDs.
EFF has your back.