First Look
goTenna: Give your smartphone long range messaging even if there's no cell service!
goTenna will keep you connected when there's nothing else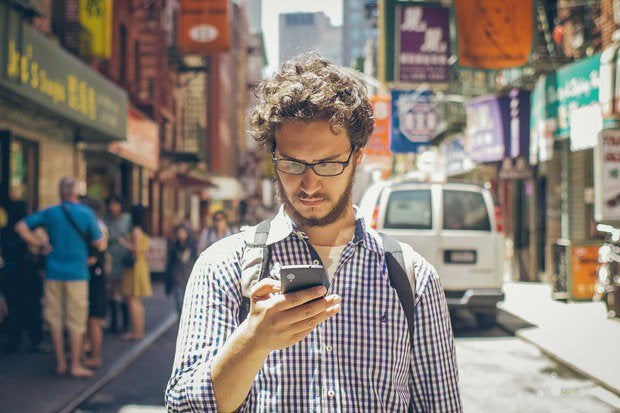 This is a seriously good idea: A device that works with your smartphone and turns it into what amounts to a CB radio. This means that even when you have no cell service you'll be able to send and receive messages and location data to and from other people equipped with the same device at distances of anywhere from one  to 50 miles!
The device is the goTenna, a small (5.8 in x 1 in x 0.5 in) aluminum and polycarbonate cuboid that  weighs 2 ounces and is water-resistant and dust-tight. It will operate on it's internal rechargeable battery for a couple of days of normal usage or about 30 hours of continuous use. When it's off, the goTenna will hold its charge for roughly a year and a half and it will operate when run on external power.
The goTenna can send and receive both private and public messages using its built-in 2 watt radio operating in the MURS band (151 to 154 MHz). Private messages "are end-to-end encrypted with 224-bit elliptic curve public-private key ciphering" making them very secure while "shout" and "emergency" messages are sent unencrypted. Messages are also reliably delivered with automatic retry on failure. The goTenna has internal storage for a claimed thousands of messages.
goTenna provides free, detailed offline maps of the whole world and the app allows sharing of locations and recording points of interest on the maps. There's also the ability to locate friends with goTennas on the map.
The actual range of the goTenna depends on local conditions. In a cityscape range could be just one mile while under ideal conditions it could be as far as 50 miles (that would only be if you and the other person are both on top of mountains). goTenna has an interactive range estimator you can check out.
The goTenna communicates with the smartphone apps (available for iOS and Android) over Bluetooth LE.
What the goTenna doesn't do is what you might have hoped for; it doesn't implement a store and forward mesh messaging system simply because the FCC doesn't allow such a thing (I'm told the argument is against store and forward wireless mesh networks is band congestion). 
An SDK will be made available so there will undoubtedly be some interesting (but definitely not mesh store and forward) apps appearing. 
While the goTenna is obviously useful for people who are hiking or camping it's also useful at events when cell service get congested. It would also be useful in corporate settings where cell coverage is poor, spotty, or for field work where cell service is nonexistent.
goTennas are sold in pairs with a pre-order pricing of $149.99 while the planned retail pricing will be $299.99. Although I have yet to get my hands on review samples I'm going to award goTenna a provisional 5 out 5 for sheer genius.