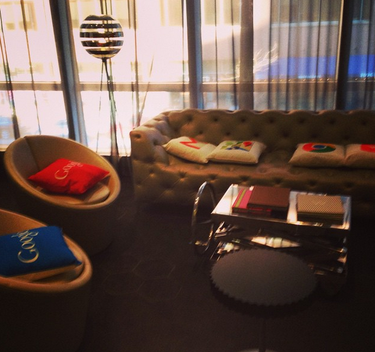 I attended an excellent Google for Media event in Boston event last week along with dozens of other journalists hungry to learn the latest tricks and tips in using Google tools -- and to help their content win favor with the search giant. And I'm not just saying that because I want Google to boost Network World's presence on its search engine and Google News pages.
It really was a good event, made even more memorable by the presence of the Dalai Lama at a theatre across the street and many of his supporters in the streets, playing music and singing loud enough to be heard within the hotel where our event was held.
Google, which made itself at home at the W Hotel by plopping its pillows in the lobby, kicked off the event with a slate of talks and panels featuring top-notch journalists, including CNN's Alicia Stewart (on undercovered stories), Pulitzer Prize-winning Boston Globe journalists (on Boston Marathon bombing coverage and even the issue of PTSD for journalists), Frontline's Raney Aronson (mainly on video) and Streetwise/Bostinno's Kevin McCarthy (great detail on how they measure success using various content tracking tools). Being a Google event, many positive references were made to Google Analytics and other Google products, though Google+ did get a couple of obligatory knocks. (Google for Media tried to get some chatter about the event going on G+ under the hashtag #G4MBOS, but as far as I can tell, that only really took place on Twitter.)
After lunch the event turned over to Google presentations on its latest tools, such as Consumer Surveys (they were handing out $1,000 coupons to try it!), Google Maps, Hangouts and Fusion Tables -- the sorts of tools that make it so much easier for journalists to produce data-driven stories like this. The Consumer Survey presentation did indeed have a sales pitch feel to it, but since I wasn't really familiar with the seemingly sophisticated offering, it was worth a listen. I first assumed it was going to be another free or freemium service, but was interested to hear Google talk about something it overtly is trying to make money from. One session attendee commented at the end of the presentation: "This could kill Qualaroo."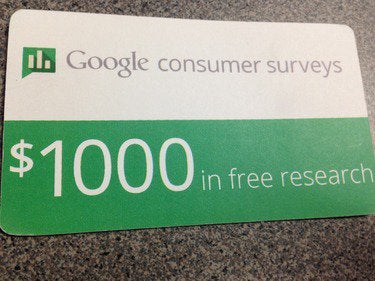 Which brings me to Google News, an algorithm-powered web content aggregation site that perhaps ironically punishes other web aggregators and purportedly seeks to highlight the freshest, best and most original content around. Presenter Stacie Chan said Google purposely keeps the Google News site spare in hopes of driving readers to the publishers of original content it highlights based on some 200 signals chewed over by the algorithm.
Publishers like Network World and our sister sites work hard to produce content that not only will help the IT professionals we target with our content to do their jobs better, but also to gain Google's favor in hopes of prime placement on Google News and Google search.
Our experience of late on Google News has been frustrating, as we attempt over and over again to follow Google's ever changing best practices without seeing great results. I chatted with Chan after her talk, and she pretty much said, "Yeah, it sounds like you're doing things right...keep trying." Any organization that has attempted to use search engine optimization and other techniques to rise in the rankings on Google search probably knows how this feels.
It certainly seemed as though all the Google people in attendance meant well. After all, good web content is good for Google's business, in terms of putting eyeballs in front of Google Adsense ads, keeping people attached to their Android devices and encouraging social media users to share content on Google+ (Okay, well maybe not that last part).
Operators of other social networks, such as LinkedIn and Twitter, have also reached out to publications like ours over the years to help us get more from their sites. There certainly are reasons for them to do this, even though we recognize they're also competing with us in certain ways. Much has been written in recent years about LinkedIn positioning itself more as a destination site for news and opinion readers, even as it invites writers and editors to post content on LinkedIn via its Influencers program.
In the end, I felt like I did get many answers from Google during the course of the event, and I shared them with my colleagues when I returned. Though I suspect the Dalai Lama might have had more answers for me about the mysteries of Google News.