Samsung highlighted two promising technologies and a business model that could evolve into an ecosystem at its developer conference this week. Samsung's stakes in three different emerging markets – eHealth, virtual reality, and the smart home – are very different, but make sense for a conglomerate that is represented in many industries outside of mobile and computing.
eHealth
The popularity of wearables, like the Fitbit, Apple Watch, and Android Wear watches, expose a widespread design flaw. Inexpensive, low-fidelity sensors, which manufacturers picked to minimize cost and keep the price low for consumers, can only estimate activity and heart rate. The creativity of health and fitness apps is constrained by the hard-wired sensors. 
Samsung's Simband radically diverges here. It's a reference design for wearables that lets developers interchange sensors. The Simband looks like the Galaxy S smartwatch but has an interchangeable sensor module. Samsung's stock sensor module produces fine-grained measurements to help estimate accurate heart rate, blood pressure, and neurological electrical characteristics more accurately. Don't like Samsung's sensor module? Build your own.
The cost of sensors tends to follow semiconductor economics; as volumes grow, costs dive. Simband opens wearables to prototyping with new sensors that could produce the killer wearable app. The app could lift sensor volumes to levels that drive costs down, making the retail price affordable and the physiological readings immeasurably more valuable than today's crop of wearables.
If new sensor-based apps don't capture enough volume to drive down the cost, developers could sell a unique, premium-priced sensor that accurately monitors a subject's health to improve medical diagnostics or cut medical costs.
Simband's hardware, electronic designs, and software licensed at no cost lets wearable designers prototype a sensor app using Samsung reference design hardware, then manufacture and sell their own device.
Samsung representatives seemed more interested in stimulating innovation and creativity than making money. Samsung didn't state a financial goal for Simband. Perhaps Simband will be monetized through its ties to Samsung's SAMI data exchange platform.
Virtual Reality
Samsung also announced the Gear VR and Project Beyond at the conference. Virtual reality enthusiasts should take a deep dive into the Gear VR, which features built-in technology from Oculus Rift, acquired by Facebook this summer. It's a virtual reality headset that uses Oculus optics and head tracking with a snap-in Galaxy Note 4 as its display to recreate a three-dimensional immersive experience for the wearer.
More interesting than the Gear VR is Project Beyond. It's a new kind of camera that captures a 360-degree view in 3D at gigapixels per second. It's a virtual reality content acquisition camera that could allow those wearing virtual reality goggles to experience to another place.
How it will be used wasn't clear because, short of a satellite base station or fiber connection, transmission of the gigapixals-per-second video stream will be a challenge. But in the historical context of television in the 1950's, when sports and politics were chosen as programming venues for their access to what was then high-speed wireline signal transmission connections to broadcast stations, one can imagine a similar use of the Project Beyond camera system at live events.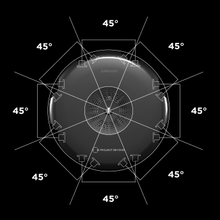 The Project Beyond camera could be capable of acquiring and storing a three-dimensional immersive experience as a stored reality. For example, a person wearing virtual reality goggles could have a first-person experience of visiting the Sistine Chapel. Likewise, a robot could position a Project Beyond camera in one of the damaged Fukushima reactors and scientists can study conditions without being exposed to lethal radiation.
Samsung has applied its camera and optical expertise to build this 16-camera device. The experience won't completely outsmart human perception with a synthetic reality quite yet, but after one or two iterations, it might.
Smart Home
Samsung's acquisition this summer of SmartThings, maker of a home Internet of Things (IoT) hub and cloud service, was stored in the collective memory of tech readership as one more strategic IoT move by a big company, like Google Nest's acquisition of Revolv, then forgotten. Smart locks, refrigerators, televisions, security cameras, lighting, and a multitude of other emerging home devices and appliances connected with SmartThings can create a smart home. For example, the UPS driver rings the doorbell, the homeowner's smartphone shows them a video feed of the driver at the door, the homeowner remotely unlocks the door. The driver puts the package inside and the homeowner locks the door again once the driver has left.
Samsung, often criticized for its lack of an ecosystem like Google, may have found one in the smart home, where the company has unique advantages. As a conglomerate with thousands of consumer products and a supplier of semiconductor, electronic, electrical and electro-mechanical components, Samsung can eat its own IoT dog food (a long-standing product improvement principal that relies on a company's internal dependency on a strategic product it builds for). Samsung manufactures refrigerators, stoves, and heating and air-conditioning systems, all candidates for connecting to the home IoT. Samsung could easily produce devices believed to be strategic, or include competitor's products like the Nest thermostat.
Samsung's success needs cooperation with competitors. If it can bring companies like LG, GE, Honeywell ,and Siemens into the SmartThings fold, it could carve out a competitive home IoT ecosystem.
All told, Samsung's approach to these emerging markets is more like Google's. The company is completely comfortable delivering early products, innovating with its developer community as hardware and software improve with iteration. One can't imagine Apple introducing something like the Simband, telling the audience that it's not sure exactly what it will be used for, and then giving away all the intellectual property to innovators.