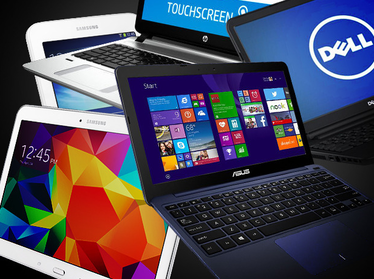 Word is that more retailers will relent to public pressure – I mean do the right thing for their employees – and close on Thanksgiving Day this year. But that won't prevent them from going all out online, where much is automated and the workers are less prominent. Here are some of the best deals on network and technology offerings for Black Friday, Cyber Monday and in between. (Compare with last year's deals)
Dell: Inspiron 15-inch laptop
Powered by an Intel Celeron processor and running Windows 8.1, this system boasts 4GB of RAM and a 500GB hard drive. Dell's special pricing for those getting through on line beginning at 12am on Friday, Nov. 28, is $190, a $110 discount off what Dells calls the "market price" (though Dell appears to regularly sell the laptop for $250.
Target: Apple TV
Like other retailers, Target has a number of deals on Apple products. Among them: $11 off an Apple TV device, which you can get for $89 on Black Friday.
Target: iPhones, iPads and gift cards
Apple gives retailers little leeway in terms of discounting its products, so Target and others often resort to selling the Apple products for the regular price, but bundling the with gift cards. Target is offering a $100 Target gift card with an iPad Air 16GB WiFi tablet ($400), iPad mini 3 16GB WiFi tablet ($400) or iPad mini 2 16GB WiFi Tablet ($300).
Best Buy: Samsung Gear Fit Fitness watch with heart rate monitor
Best Buy is slashing the price on this gadget, which comes in black, from $150 to $100. Count your steps taken and calories burned in style, with this device, which syncs up with various Android phones. Best Buy's online sales will run Thursday/Friday, with stores opening at 5pm on Thanksgiving Day where allowed, and again at 8am on Friday.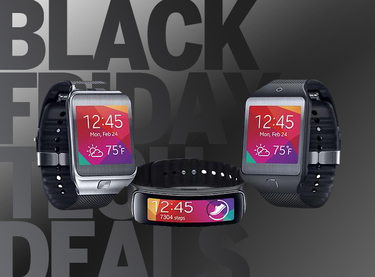 Best Buy: Surface Pro 3
The retailer is cutting $50 to $150 off the price of Microsoft Surface Pro 3 tablets with 128GB of storage or more (they start at $1,000 before the discount). Note that this does not include the keyboard for the flexible 12-inch touchscreen device.
Best Buy: Panasonic 50-inch LED TV doorbuster
This 33-pound Panasonic TV, which serves up a 1080p and 60Hz HDTV picture, usually costs $550. The pre-Black Friday price is down to $500, but will go for just $200 in this in-store-only deal on Thanksgiving/Black Friday.
Walmart: iPhone 6
The monster retailer, which has said it will match Amazon prices in all its stores to kick off the holiday shopping season, has a pretty fine deal on the iPhone 6, which will cost $179 for a 16GB model with a two-year contract (typically $199). What's more, you'll