My first thought when I encounter a pitch this outlandish is that it must be some kind of hoax, like a combination iPhone case and cup-holder, for example.
So with that caveat in mind, allow me to introduce the Baen Cube, which while merely a Kickstarter gleam at the moment, promises to ultimately "enhance your driving experience, letting you play games with your car."
Note that's with your car and not merely in your car. From the Kickstarter video.
"Imagine your car is a mechanical soldier in a virtual world parallel to ours and it battles other cars for supremacy. Its fate depends on your actions in the real world. As you travel through the parallel universe that links to real-world driving, you can find weapons and equipment to power up your car. You can also fight enemies, form alliances and occupy checkpoints."
B-b-but, how?
"By combining live car data, GPS location and your smartphone, we can link driving with games on the phone and create a new gaming experience. Baen's hardware is the bridge between your car and your phone and its algorithm turns daily driving into a unique experience."
Uniquely dangerous? Fear not, the makers say.
"With our safety features, we are trying to reduce distracted driving, and let you safely play games with your car."
Those alleged safety features include:
The game does not allow interaction with the screen while driving;
All notifications are voice or audio only;
And, the game does not reward driving behavior.
We seem to be getting mixed messages here.
One Redditor was concerned enough to propose a petition to get the Baen Cube kicked off Kickstarter. It fizzled.
However, even at CarThrottle.com -- purveyor of daredevil fare such as "Lotus Just Jumped A Truck Over A Speeding F1 Car And The Footage Will Blow Your Mind" – the idea was met with open ridicule:
But back to the original question: Is Baen Cube for real? Here's the politely accusatory question I tweeted to them followed by their reply: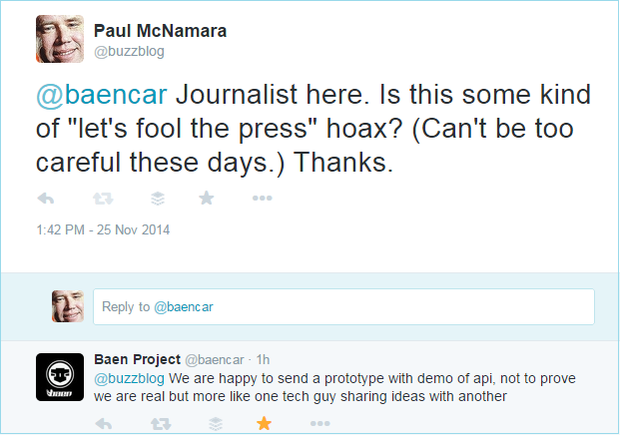 Read that as you will.
Meanwhile, back at Kickstarter, the Cube has attracted only 27 backers pledging a total of $735, which leaves the venture just over $39,000 short of its $40,000 goal.