This is the question I most often receive once I return from the annual International CES, the "geez, there must be a billion different products here" trade show that's wrapping up this week in Las Vegas.
 Whether they're looking for a specific product ("Did you see the X?") or general trend, I think people who ask me are generally looking to see what "the next big thing" (to borrow the branded phrase from Samsung) will be in the world of consumer electronics.
 You could spend the entire week at CES and still not see everything on display. Still, there's a bunch of new products and other relatively new products (not everything you see here is brand new) that I did see during the week that I'm excited about.
 General trends: There were a lot more products and companies showing off wearable gadgets, health and fitness devices, robots and 3D printers and scanners than last year. The popularity and success of virtual reality (seen in previous year by the Oculus Rift) was on display, as we saw crowds around several VR type booths (there was always a long line of attendees at the Oculus booth waiting to try it out, as well as Samsung's Gear VR headset).
Here are some specific products and companies that impressed me this week, as well as things I'd love to try for myself this year:
NETGEAR: The company's new Nighthawk AC1900 WiFi Range Extender (model EX7000, $169.99, shipping by end of January) adds 802.11ac functionality to help improve range and throughput for customers who may have already purchased their previous 802.11ac routers (either the Nighthawk X6 or X4 models). The company also announced two smaller range extenders – the AC1200 (EX6150, $119.99) and AC750 (EX3700, $79.99), which will be out later this year. The new extenders will also include a redesigned NETGEAR genie app and experience, to help users find the right settings for extending their Wi-Fi network and improving performance for devices connecting to the network.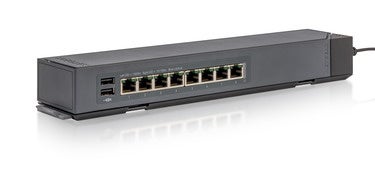 I was also impressed with the company's new ProSAFE ClickSwitch products (pictured above), which provide users with either an 8- or 16-port Gigabit Ethernet bar that can be mounted vertically or horizontally (or in hard-to-reach spaces) to provide additional Ethernet access. I can see many conference rooms (or even living rooms or home offices) taking advantage of these options. The devices include an internal power supply and cable management straps to help users improve the appearance of locations such as conference rooms, cubicles, wiring closets or even your home theater. The 8-port version (GSS108E) will cost $69.99, while the 16-port version (GSS116E) will cost $169.99.
The Powerline 1200 + Extra Outlet (model PLP1200, $89.99, expected later in Q1) brings Powerline HomePlug AV2 updates to homes utilizing their power outlets for data networking purposes. The cool part about the PLP1200 is the pass-through outlet, which means you don't lose the wall outlet when plugging in the powerline adapter. NETGEAR says you can even plug in a power strip to the device to get some additional power outlets (but not additional network capabilities).
 D-Link: I liked the look and feel of D-Link's ULTRA performance Wi-Fi Router line, its version of the "Tri-band" concept (technically still two frequency bands, with the third coming by splitting the 5GHz frequency, but I'm giving up trying to split hairs on this term). The new routers have either four, six or eight antennas (similar look to NETGEAR's Nighthawk routers), with a bold red color that make the routers look like an unmanned drone or Space Invaders-like ship. The line include the AC5300 (model DIR-895L/R, available later this quarter, pricing not announced), the AC3200 (model DIR-890L/R, available now for $309.99 on NewEgg) and the AC3100 (model DIR-885L/R, available later this quarter, pricing not announced.)
D-Link also offered up its own powerline adapters based on HomePlug AV2, the AV2 2000 Gigabit Starter Kit (model DHP-701AV, $129.99, available Q1) and AV2 1000 Gigabit Starter Kit (model DHP-601AV, $79.99, available Q1). The 701AV model includes support for the AV2 Multiple Input Multiple Output (MIMO on powerline!) technology, which "allows the adapters to utilize the fastest two wires in a typical three-wire installation," D-Link says. This means the adapter will utilize the ground wire as well, so you'll see these adapters with three prongs instead of two. For homes where Ethernet or wireless isn't an option, these adapters can offer a performance boost for new applications that need additional bandwidth.
 Linksys: The company announced its first dual-band router that utilizes new MU-MIMO (aka 802.11ac Wave 2) product. The MU in MU-MIMO stands for "Multiple User", which basically means faster speeds on the network when multiple devices are trying to access content (for example, when your kids are streaming Netflix when you're trying to download a new game for the PS4). The Linksys AC2600 Dual Band Smart Wi-Fi Router (model EA8500) is expected to ship in April for $279.99
Seagate: I really liked the design of the Seagate Seven hard drive (500GB) – the "Seven" stands for 7mm thick (or thin, depending on your perspective). The steel enclosure helps protect the drive on the off chance that this small device gets dropped (I can see many people carrying this drive around in their back pockets).
 Speaking of stylish, the company's LaCie brand showed off the sleek Mirror hard drive, which includes a Gorilla Glass mirror enclosure and a nice ebony wood display stand – executive gift idea, anyone?
 There's more to come, so stay tuned for Part 2 later this week!