Tools
Michael Kors Duracell iPhone Power Case: How cool do I look now?
Duracell Power Mat and Power Case provides wireless charging for an iPhone ... Kors makes it look cool
I have tested many, many iPhone cases ranging from the starkly functional  (simple drop and screen protection) through to the Arnold Schwarzenegger models (they  protect your iPhone if dropped from two stories up, immersed in 60 feet of water, or driven over by a truck … really, I tested one like that; it was, to say the least, not "pocket friendly").
After so much practicality I now find myself in a very different aesthetic place because I am now sporting an iPhone case from a whole different dimension: The Blingiverse.
Yep, I've been toting around a Michael Kors branded iPhone case produced by Duracell and I have to say I love it. It's not only good looking and protects the iPhone, it also has built-in back-up power with wireless charging.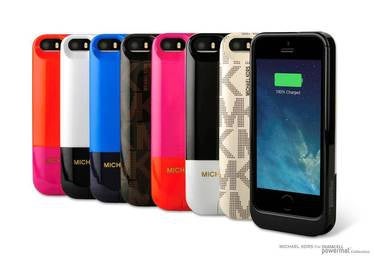 The case, based on Duracell's Power Case design, has a great feel. It's not too big, it's not too heavy, and its built-in 2,000 mAh rechargeable lithium-ion battery provides a 100% recharge for an iPhone 5 and has a 200 hour standby. But when it's paired with the Duracell Powermat it's even better.
The Powermat provides wireless charging so all you have to do is lay your phone down on the pad and voila! Charging starts. It really doesn't get much easier than that. When you're out and about and your iPhone is low on juice, you press the button on the case and voila! Charging begins.
The case mates via the iPhone's Lightning connector and presents a micro USB port so it can be charge from a regular adapter (nope, the iPhone's functions aren't available via the port).
My only problem with the  system is that the Power Mat has white LEDs around its base that come on when a device is on charge and these are, in common with many other tech products, not good when it's time for sleep … if there's one thing I find annoying it's light in the bedroom at night. The answer: Small pieces of electrical tape cure the problem without ruining the look.
Priced at $140 the Michael Kors Power Case with a Power Mat is a great choice for protecting and recharging your iPhone while simultaneously looking good and gets a Gearhead rating of 5 out of 5.