First Look
Ubi: Ubiquitous, always-on, voice-activated computing
Talk about a futuristic vision ... Ubi is about as close to being your slave as it comes ...
Back in 2012 I backed a Kickstarter project called "Ubi". Ubi stands for "ubiquitous"; it's the name for a computer that is always on and voice-activated. The project was looking for $36,000 but raised $229,594 from 1,190 backers so it was a very successful campaign.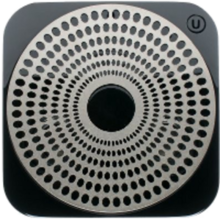 Another reason the campaign could be considered successful was that the project actually started delivering product at the end of 2013, about 9 months later than planned, though great communication with backers and responsiveness by the project owners made the delay tolerable (as opposed to my crowdfunding bette noire, the Robot Dragonfly over on Indiegogo, a project which is not only two years late in delivering product but has yet to show the device actually performing! The company behind the project, TechJect, also treats its backers appallingly … but I digress).
The Ubi is roughly 4.75" square by 1" thick and plugs directly into a wall socket. You can also remove the power adapter and connect Ubi to the adapter with a USB cable. The device has two speakers, two microphones, and lights as well as temperature, humidity, air pressure, and light sensors and runs Android 4.1. It's driven by a 1.2GHz dual core ARM A9 Cortex processor with 1GB of RAM and 4GB of storage and communicates via WiFi.
Ubi works through the online Ubi portal (you can register multiple Ubis and they can be geographically separated). When you first get your Ubi you need to initialize it which is done via a Web browser (Chrome preferred) and is a straightforward process. Once initialized you name the device, select which voice it should use (two choices are currently available), set the time zone and location, and set volume and microphone sensitivity. After that you can interact with Ubi and get it to do your will ... the portal also tracks all of the environmental data from each Ubi.
To wake up Ubi you say "OK Ubi" ("Ubi" is pronounced "U-bee"). Without any customization Ubi can answer a fairly wide range of questions including "What is the time" and "What is tomorrow's weather".
Curiously, when you are interacting with Ubi and your request isn't understood Ubi responds randomly which can be amusing but is mostly just irritating. The voice of one of my sons' also seems to get Ubi's attention without him actually having to say "OK Ubi" so in the middle of a conversation over dinner Ubi will occasionally say things like "I'm not that sort of girl" or "I have no idea where that is." Unfortunately this random behavior can't be switched off.
Ubi is supported by IFTTT, one of my favorite services (I wrote about IFTTT some time ago) so you can do things like switch lights on and off via voice command to Ubi that trigger IFTTT recipes using Philips Hue bulbs or Google calendar or . well, there's a huge number of services that IFTTT lets you control via Ubi.
My big problem with the Ubi system is that the roundtrip from an Ubi to the Ubi portal to something like the Philips Hue hub on your network can be just long enough to think that nothing is going to happen following a command. This is uncomfortable for the user (8 seconds to switch on your front door light is too long).
All criticisms aside, Ubi is at least as useful as Apple's Siri. Ubi never says "I can't help you right now" or whatever it is Siri says when it's overloaded (which seems to be pretty damn often these days) and on top of that Ubi can do a lot more including triggering HTTP requests and responding to voice commands with complex sequences of actions including voice responses.
I'm really impressed and rather fond of Ubi. It's a little eccentric, a little unpredictable, but very effective when it understands what you want. It's got an sophisticated API, integration with some of the most interesting and useful services and just carries on evolving.
Ubi, priced at $299, is admittedly, a little pricey but with a lifetime portal subscription included, free shipping, as well as free online and telephone support Ubi gets a Gearhead rating of 5 out of 5.