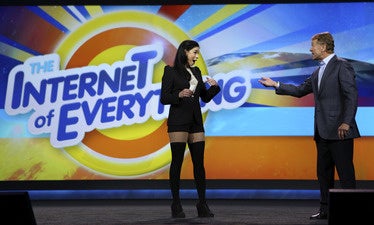 Last year Cisco invited racy comic Sarah Silverman to the CES International conference in Las Vegas to shill for the company's Internet of Everything campaign alongside gentlemanly CEO John Chambers. A surprising combo that worked Okay: Silverman behaved herself for the most part, though did make clear she didn't write the "junk" she was saying during the schtick.
Now we learn that Silverman is hawking for T-Mobile during Super Bowl XLIX alongside Chelsea Handler and on behalf of the salty-tongued T-Mobile CEO John Legere.
Silverman and Legere: Now there's a nice pairing.
MORE: Techiest Super Bowl XLIX Commercials
Silverman quips in a preview of the Super Bowl commercial for the
Un-carrier" that you don't want to be a carrier. "I have some friends that are carriers. Sometimes you never find out."