Apple last week delivered a blockbuster earnings report which impressively surpassed even the most optimistic of projections from analysts. When the dust settled, Apple during the last three months of 2014 recorded nearly $75 billion in revenue and $18 billion in profits, a figure high enough to make it the most successful quarter in corporate history.
Just let that sink in for a bit.
Without question, the catalyst behind Apple's record breaking earnings was the iPhone. For the quarter gone by, Apple sold 74.5 million iPhones, an all-time quarterly record.
What's interesting about Apple's iPhone sales for the quarter, aside from the incredible volume, is that the average selling price (ASP) of the iPhone was way up from the same quarter a year-ago. During the 2014 holiday quarter, the ASP of the iPhone was $687. During the 2013 holiday quarter, the ASP of the iPhone was $637.
It's overwhelmingly clear that Apple's more expensive iPhone models - the 6 and the 6 Plus - were key factors in Apple's record breaking quarter. And yet, armchair quarterbacks with no semblance of business sense or awareness of how Apple operates have argued for years on end that Apple absolutely needs to come out with a low cost iPhone. For these shortsighted pundits and analysts, the blind pursuit of meaningless marketshare is bizarrely more important than actual profits.
Remember when Apple allegedly made a huge misstep by not making the iPhone 5c more affordable?
As an illustrative example, take a look at this chart recently put together by The Wall Street Journal (at left).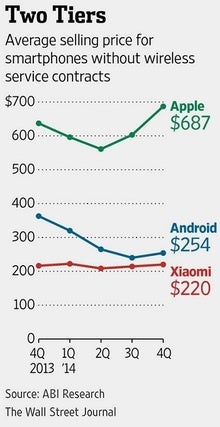 Which company seems to know what it's doing? 
Additionally, note how the ASP for the iPhone is trending upwards while Android's ASP is seemingly on the verge of flatlining, at best.
Apple's recent record breaking quarter is proof positive that consumers value quality over cost. Further, Apple's recent quarter underscores the fact that Apple's route for future growth doesn't involve a lower cost iPhone, but rather, more expensive iPhones that offer consumers an incredible value proposition. Besides, Apple sells older generation iPhones at a discount anyhow, thus accounting for cost-conscious consumers who prefer the iPhone experience over Android.
Apple this past quarter effectively uncloaked an ill-informed tech press who have long championed a business strategy tainted by misguided logic and shortsighted groupthink. Apple during its most recent quarter made more money than any other company in history not by lowering prices but by doing the exact opposite.
Apple's business model is simple. The company sells premium products at premium prices. Hardly a new strategy, this has been Apple's m.o for years on end. Yet curiously, analysts and tech pundits think Apple should reverse course when Apple has more or less been trending upwards from a financial perspective for years now.
Again, the major takeaway here is that consumers by and large don't want cheap phones. They want great phones.