Last night's Super Bowl was huge (especially for New England Patriots fans), but we're not just viewing the game in front of the TV in our homes or at the bar - we're now sharing the experience via our phones, tablets and computers. 
During the biggest moment of last night's game (when the Patriots' Malcolm Butler intercepted Russell Wilson's pass at the 1-yard-line), social media traffic went through the roof. We're not just sharing these moments with our friends and family, but with everyone around the world. 
A lot of these social media companies today released their initial statistics on how much we interacted via social media during the game, and the numbers, as always, are staggering:
Twitter
The service reported more than 28.4 million global tweets "containing terms related to the game and halftime show" were sent during the live telecast (from kickoff through 30 minutes after the game ended). The company said #SB49 was the most tweeted Super Bowl ever.
The company also posted this interactive map showing where tweets were coming from.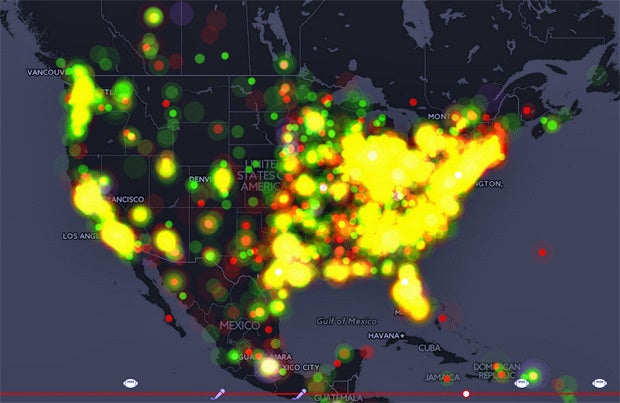 The key moment of the game - when Malcolm Butler intercepted Russell Wilson at the 1-yard-line with 20 seconds left (photo above) - got tweeted at a rate of 395,000 tweets per minute.
Facebook
The "Sports on Facebook" page posted that more than 65 million people posted about the game, including 55 million from the U.S. The company said that during the final moments of the game, "more than 1.3 million unique people per minute were posting, commenting and liking content related to the Super Bowl."
YouTube
The video site was the place to go related to the Super Bowl ads that appeared during the game. YouTube reported that "people spent nearly 4 million hours watching game-day ads and teaser videos on YouTube", which is up from 2.2 million hours from the same time last year.
The most popular ad was the 2015 Budweiser commercial, "Lost Dog" (the one with the puppy and horse).
Spotify
Katy Perry was the featured singer, and viewers also went to the music service to listen to her music. Katy Perry streams increased 85%, with the biggest song increase being "Teenage Dream" (at 139% increase).
More impressive were the other performers who shared the stage with Perry, especially Missy Elliott. Her streams increased a whopping 676%, with her song "Lose Control" seeing a 1396% increase. Lenny Kravitz saw a 103% increase in streams comparing "before" and "after" the halftime show.
Verizon
Even people at the game were communicating via social media. Verizon reported that its customers at the stadium "racked up more than 25 million wireless connections", at a rate of almost 25,000 connections per minute.
Data usage from before, during and after the game added up to 4.1TB of data, compared with 1.9TB during last year's game.
As we receive some data/trends from other sites, we'll add those as well.