Chances are your children – or their teachers, or you -- have already discovered David Sukhin's online Snow Day Calculator, which he built as a middle school whiz-kid and continues to maintain today while enrolled at MIT.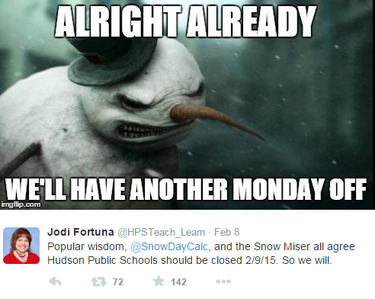 Enter your ZIP code, answer a few questions, and the calculator predicts the chances of school being cancelled or hours being adjusted over the next two days. Despite carrying plenty of caveats, the predictions are taken as gospel by some, as evidenced by the diverse user reactions on Twitter (samples under the picture below).
Figuring he must be mighty busy during this never-ending snowstorm in the Northeast, I sent Sukhin a few questions via email:
 What has traffic to SDC been like these past few exceptionally snowy weeks?
Traffic has been the highest it has been all of this winter and one day was almost double my previous daily max.
Could you tell us a little bit about the technology behind SDC?
From a tech perspective, I have a LAMP stack that is set up to pull data from weather.gov and my databases to make the most accurate and up to date predictions possible. To deal with load, there is intelligent weather data caching for at most 20mins. Additionally, any static objects (images, css, js) are served from a CDN so as to not hit the core servers with many concurrent requests with each page load. That not making outbound connections to weather.gov as frequently and static object CDN helps the core prediction servers stay up.
Is accuracy more difficult or easier under this type of snowy siege?
There are two ways of looking at this.... More people from a wider area checking the site gives more chances to be wrong but at the same time more traffic means a bigger storm that is easier to predict the outcome. Either way... the predictions, especially for the Boston area have been pretty accurate this winter.
Given that you're attending MIT, I would imagine that there is extra pressure to get your calls right in Cambridge. How are you doing recently in that regard?
Been perfect so far for MIT. I don't actually get as much pressure to get the predictions right at MIT as I did back in high school and middle school. Got all those right too :)
(Monday) night when I checked SDC for my town, it told us 35% -- or "little to no chance, but possible," according to your criteria. There's no school here today. So do you consider that a correct prediction, since "but possible?" (I was telling my kids I thought the chances were much higher, but I had the benefit of having been outside.)
When you checked the prediction, did it say that it had decreased?
Yes.
The Snow Day Calculator only looks at the weather forward so as the storm passes the prediction necessarily goes down because it does not save what happened in the past. However, the calculator will also report the highest prediction it gave for that day and in most cases it is correct to rely on that value as the correct prediction.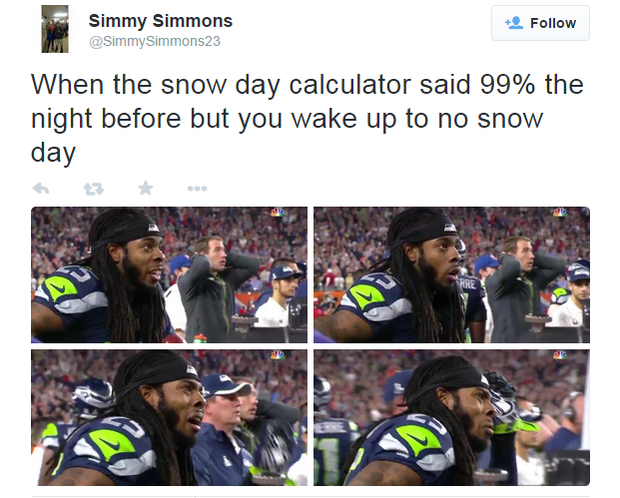 On twitter, views of the Snow Day Calculator are mixed, and, as you might expect, appear to be swayed mightily by whether school is cancelled or not.
"@SnowDayCalc SLUSH DAY!!! I guess the Snow Day Calculator was right... I'll never question its magical abilities again."
"@SnowDayCalc is my most visited website this winter."
"@SnowDayCalc I never doubted you."
 "@SnowDayCalc never has it failed my sister and I in our high school years."
"What a cool app: @SnowDayCalc I would have obsessed over this as a kid."
And from the critics:
"@SnowDayCalc You have really been letting me down lately :( "
"Dear @SnowDayCalc,  you failed us. Sincerely, shs."
"I'm suing @SnowDayCalc."
There's also a lot of swearing from those who feel their snow-day affections have been toyed with.
There's another big storm coming Saturday night into Sunday. I predict that traffic to the Snow Day Calculator will be heavy.
Welcome regulars and passersby. Here are a few more recent buzzblog items. And, if you'd like to receive Buzzblog via e-mail newsletter, here's where to sign up. You can follow me on Twitter here and on Google+ here.

Erik Solheim