Don't ask me why anyone would need paper towels or shampoo delivered within an hour, but Amazon is promising such service now to all of Manhattan.
From a Mashable report:
Prime subscribers can get two-hour deliveries for free from 6 a.m. to 12 a.m., and one-hour deliveries for $7.99 for products like paper towels, shampoo, books, toys and batteries, according to the company. Customers can purchase these products through a dedicated app.

Initially, the service was available only in the 10001 zip code, near Penn Station and an office on 7 W. 34th St. that Amazon recently leased. The expansion of Prime Now in Manhattan comes after Amazon started offering grocery deliveries via Amazon Fresh in Brooklyn in October.
Amazon wouldn't say which of New York's lesser boroughs would be next in line for the one-hour service.
I assume they wouldn't reveal the next city, either, but I can tell you for certain that it won't be Boston … at least not any time soon. As you may have heard, they've been experiencing a bit of winter disruption there, witness this tweet from the Boston Globe: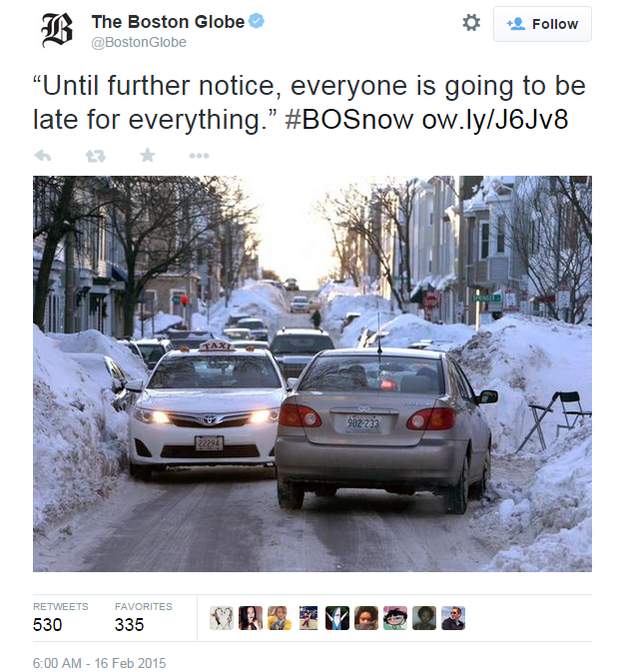 Bostonians who need paper towels or shampoo in under an hour will just have to tug on their boots.
 (Update: Proprietor of the invaluable Universal Hub website and former Network World colleague Adam Gaffin says in an email: "The Globe photo is kinda weak, though - looks like both those cars will manage to get through. Now *this* is a Boston traffic jam these days.")