IDC's recent report on smartphone operating system market share points to Apple and Google squeezing out Windows Phone and BlackBerry again, making the smartphone market a two-horse race. Melissa Chau, IDC Senior Research Manager, said:
"Instead of a battle for the third ecosystem after Android and iOS, 2014 instead yielded skirmishes, with Windows Phone edging out BlackBerry, Firefox, Sailfish and the rest, but without any of these platforms making the kind of gains needed to challenge the top two."
With just Apple and Google as serious contenders, Apple has to maintain its iPhone 6 momentum from the fourth calendar quarter of 2014, when the company boosted unit shipments to 74.5 million, compared to just 51 million units during the same quarter of 2013.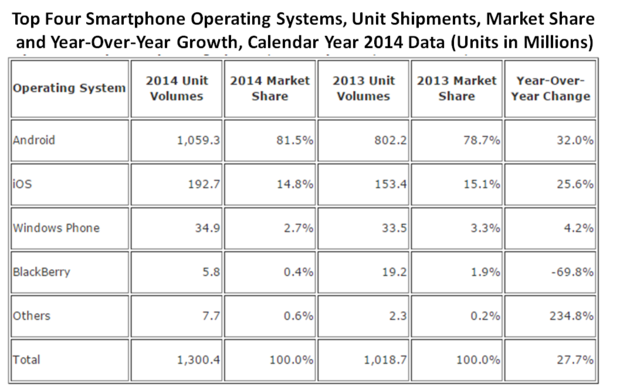 This strong fourth-quarter performance raised questions about whether Apple can find new opportunities for growth, IDC Research Manager Ramon Llamas said.
In the coming quarters, Apple will need to prove that its iPhone 6 and iPhone 6 Plus phablet can attract new customers. If the new iPhones go to predominantly existing  iPhone customers, Apple will lose momentum to Android.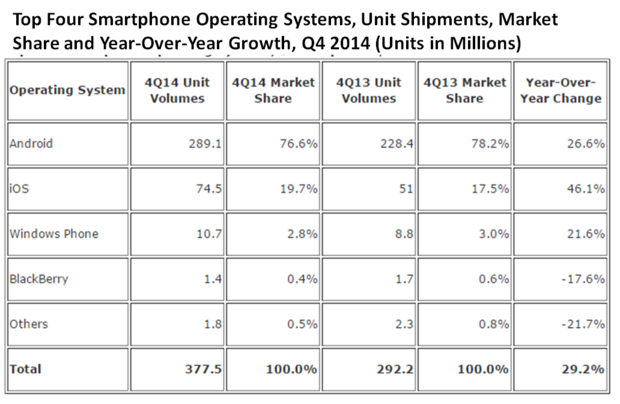 Android uncharacteristically has both the largest market share, at 81.5%, and the highest year-over-year growth rate, at 32%, of all smartphone operating systems. And it's growing faster than the overall market. Market share leaders rarely grow faster than the contenders with small market shares. Even more rarely do market share leaders grow faster than the total market.
Google's lead isn't assured, with Microsoft and Samsung's Tizen challenging Android in developing markets.
"With Microsoft bringing ever-cheaper Lumia into play and Tizen finally getting launched to India early this year, there is still a hunger to chip away at Android's dominance," Chau said.
But Google is a long way from ceding its leadership to any other operating system.
With just over 4% year-over-year growth, Microsoft made little progress. IDC believes the release of Windows 10 may bolster Windows Phone sales. A single Microsoft operating system running on Ultrabooks, tablets, hybrids, and smartphones might pump up Microsoft's anemic growth.
BlackBerry, the smartphone that most people were using just five years ago, declined year-over-year to just 0.4% market share, indicating that the company will have to find revenues and profits elsewhere in network security systems and automotive with its QNX operating system.