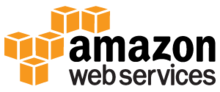 Speculating as to the he value of Amazon Web Services has been a parlor game for some time now, with the company expected to provide its answer next month. In the meantime, here's what they're saying at RW Baird, via a report on The Street:
Baird analysts upped its price target after assigning a stand-alone value of between $40 billion to $50 billion, or $95 per share, to Amazon Web Services, its cloud business segment.

The firm believes legacy IT budgets will keep shifting toward cloud providers and sees visibility for Amazon Web Services to become a $20 billion run-rate business by 2020.
The high end of that range, $50 billion, would put a stand-alone AWS within $7 billion of EMC. And, according to the Financial Times FT 500 2014, it would also make AWS one of the 200 most valuable companies in the world.