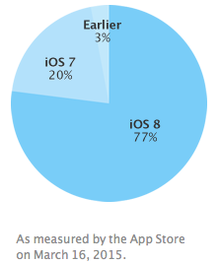 Apple revealed Wednesday that iOS 8, released to the public in September, can now be found on 77% of iOS devices accessing the Apple Store. That's up from 68% in January.
The iOS 7 edition of Apple's software for iPhones and iPads now accounts for just 20% of devices. Some have balked at moving to iOS 8 because of the space required to download it, while others have been spooked by buggy releases (I'm aware of at least one iOS 8 holdout in the office who says he doesn't have the space on his iPhone to download the new operating system).
MORE: Best iPhone 7 design concepts so far
Apple reportedly will seek to nip bugs in the bud going forward by giving the public access to beta releases of iOS.
Apple is currently on Version 8.2 of iOS, which now includes an Apple Watch app whether you want it or not.