Hands on: AT&T Velocity hits the WiFi hotspot
ZTE-built device boasts intuitive interface, AT&T LTE connectivity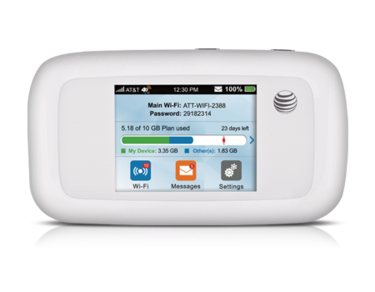 I'm using the ZTE-built AT&T Velocity WiFi hotspot as I write up my quickie review of the device here, and sure enough it's providing me with ample speed as I fact check on the web during this process.
The basic purpose for the device is to provide you with 2.4- or 5-GHz WiFi Internet access – via an AT&T 4G LTE connection -- when you can't find free or safe WiFi in the wild. You just need to make sure you're not somewhere that blocks usage of such devices – a practice frowned upon by the FCC.
The product was actually introduced by AT&T this past October, but when ZTE offered out of the blue this month to send us one to try, I figured I should since I've been too cheap to invest in a hotspot device of my own (the almost-blooper reel of an unboxing video here). I've been using it off and on for about a week.
The hotspot is designed to connect up to 10 WiFi-enabled devices, and I tried it with up to four (a Windows PC, a MacBook Air, an iPad and an iPhone). I didn't notice any drop-off in download or upload speed, though according to an Ookla test my speed is actually much faster when connected to the wire or using our in-house WiFi. But it wasn't as if I was doing any real heavy lifting in terms of what I was accessing on the Web, so like I say, the speed was quite fine, even for watching video.
I found the Velocity simple to get going right out of the box, which in addition to the hotspot device includes a plug-in USB charger and quick start instructions.
The palm-sized white device (glossy on the front, matte on the back) feels hefty at 4.6 ounces – a bit heavier than my iPhone 5 – but it's not as if I need to hold it while it's being used. AT&T claims 10 hours of battery life, something I didn't measure. 
The color touchscreen interface is simple enough, allowing me to reach the Internet via the main Wi-Fi network or as a one-time guest. In trying to connect as a guest, I was prompted to plug in a password shown on the hotspot device. I avoided WPS connectivity, which can be had via a physical button on the side of the gadget. 
The touchscreen interface also allows you to block devices, gauge data usage, turn international data roaming on or off, and more. Physical features include a SIM card slot, a microSDHC slot for file sharing/storage and a power button.
While the Velocity worked fine at my work office, where we happen to have an AT&T antenna on the roof, it proved useless at home: Unfortunately, despite AT&T claiming to reach 300 million Americans with 4G LTE coverage, they have failed to do so consistently on our not-really-in-the-boonies street in suburban Boston. I was reminded of why we switched to Verizon from AT&T years ago, after deciding that standing in the driveway to make calls wasn't going to cut it. 
Nevertheless, assuming you are in an area that AT&T covers... the carrier sells the hotspot for $1 with a 2-year contract, or for $150 without (that's down from $20 and $170, respectively, from when the product debuted in October).
You also need a data plan: AT&T's DataConnect-only plan costs $50 per month for 5GB, plus $10 per GB if you go over that. Or, you can go the Mobile Share Plan route, which provides unlimited talk/text, plus shared data ranging from 300MB ($40 per month) to 10GB  ($120 per month) to 50GB ($395 per month).
If you want to try to win a Velocity hotspot, check out this ZTE promotion. 
While I haven't tested Verizon's offering, the JetPack, it has been favorably reviewed, such as here by Forbes. It also costs more than AT&T's product, at $50 with a 2-year contract and $200 without.