First Look
Here be cables (and monsters)
An old skool-style map of submarine cables answers the crucial question "just how does Caracas connect to Havana?"
The Internet has been a major force in the deployment of undersea communications cables and I bet you've been wondering just where these cables are and about all sorts of other really geeky stuff about them. Fear not! A company by the name of Telegeography has your back … or rather your map.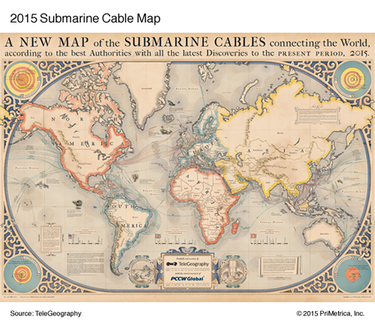 The company has just released its 2015 Submarine Cable Map in both an interactive, online format as well as a printed poster! At last, no more wondering just how Caracas, Venezuela, connects to Cuba (the Alba-1 cable) or Andorra, Spain, connects to London (the Tata TGN-Western Europe cable).
These and many other submarine cable trivia such as Lit Capacity, Latency, and Dangers at Sea are definitively answered - for this year at least - by the 2015 Submarine Cable Map which has been rendered in a delightful "old skool" replete with monsters of the "Here be …" variety.
View Comments
Don't Miss
Here's a roundup of products, services and more that Microsoft rid itself of in 2016.
A review of 19 companies that offer free cloud storage
By forcing Windows 10 on users, Microsoft has lost the tenuous trust and credibility users had in the...
Resources
Video/Webcast
Sponsored

White Paper

White Paper

White Paper

White Paper