Saleaforce does not cut any corners with its events.
Last week I attended the Salesforce World Tour at Boston's Hynes Convention Center – a place where I've attended dozens of tech conferences. But this one was different. After telling someone it was my first Salesforce conference, the response from one attendee was – "It's almost like a religious experience." I don't know if I'd go that far, but it was interesting.
+MORE AT NETWORK WORLD: 5 Things you need to know about Amazon's big cloud announcements this week + 

First of all, the conference was packed – that's not to say that other conferences have not also filled up the massive event space, but Salesforce definitely brought out the people. At registration there is not only a DJ blasting trendy, upbeat music – at 8:30 AM – but there is a white carpet and bright marketing signs hanging up around the venue. Looking just in the exhibition room you could not tell you were at the industrial-feeling Hynes.
Walk into the main theater for the keynotes and it feels more like a circus than a tech conference. Instead of a rectangular stage at the front of the venue with rows and rows of seats, Salesforce sets all the chairs up in concentric rings around a center circular stage. During the first hour of the keynote, Salesforce products were barely mentioned.
Instead, who shows up but the Boston-based Irish rock band The Dropkick Murphy's. As if that wasn't not enough, then out of seemingly nowhere walked 4-time Super Bowl champ Tom Brady. Some audience members literally gasped; Brady's a big deal around this part of the country. Reminder: This isn't Salesforce's big Dreamforce conference, which attracts more than 100,000 people to San Francisco each year - it's their regional Boston stop.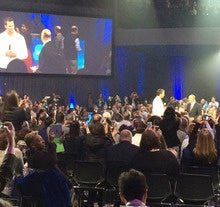 Some other things stuck out to me as well. For example, the ratio of males to females was dramatically more in line with that of society compared to what you see at most other tech shows, which are normally predominantly attended by males. It was refreshing to see.
Salesforce puts on elaborate conferences to convince attendees of a handful of points:
That it is the market leading CRM cloud tool in the market
That it's a philanthropic – a lot of time was spent talking about the company's charitable giving efforts.
There are other services that customers can use on Saleaforce's cloud beyond just CRM, such as a service and marketing clouds, as well as analytics tools.
Customers can build new customized applications on the Force.com platfor
So did Salesforce get its message across?
I talked to some attendees and everyone I spoke to was a happy Salesforce customer. There seemed to be a mix of Salesforce administrators, marketing and sales managers and executives, and some CIOs and IT folks. Most of the folks I spoke to use the company's CRM product, and have been for years. But beyond that they are just dabbling in Salesforce's other offerings.
One Massachusetts-based data analytics company said they use the CRM product and are beginning to roll out the Salesforce Service cloud for its customer service representatives. Has it used Force.com or Heroku for new application development though? No – the company contracts out new application development, so it has no plans to build new apps on Salesforce's cloud.
Another user I spoke with said she has built her career on Salesforce's cloud, as a marketing and sales manager. After just starting a new job she attended the conference looking for a new data analysis tool for her Salesforce deployment. She could build such a tool in Salesforce's Force.com cloud, but she first wanted to explore if there are Salesforce partners that could provide the services she needs.
My takeaway from the conference is that Salesforce is a force in the tech world right now. The company has a marketing-leading SaaS product and it's not afraid to brag about it.
But moving forward the company has a lot of convincing to do to get its massive install-base to use new tools it is rolling out. The company has a marketing and service cloud – those will likely get adopted naturally in many accounts. But new analytics and application development tools it has invested heavily in may take a much longer time for its regular everyday customers to jump on board with.
The company's big message is that businesses today need to be customer-centric. It seems to be leading by example by wooing its own customers with the Dropkick Murphys, Tom Brady and elaborate events.