With a couple of spring/summer concerts in my near future at which I'm bound to feel a bit age-conscious (no, am not going to see Taylor Swift), the arrival of Microsoft's How-Old.net website couldn't be better.
I plugged in my official Network World portrait and seconds later the website pegged me for being a 46-year old guy. I'll take that since it shaves a few years off my real age.
RELATED: 10 Cool Network & Computing Research Projects
What's more, I stuck 30-year-old Facebook CEO Mark Zuckerberg's mugshot from Facebook into the website and he's apparently quite a bit older than me, at 54. Yes, another thing that The Social Network got wrong.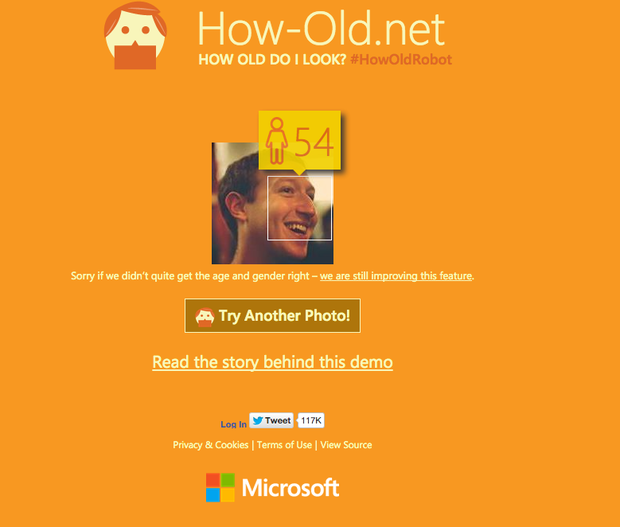 The website, revealed at Microsoft's recent Build 2015 conference as a way to show off the power of Azure cloud technology, relies on Microsoft's Face Detection API, which can be used to ID faces in Bing searches. And while thousands of people are having fun with the site, including for guessing celebrities' ages, there's some serious science behind it, according to Corom Thompson and Santosh Balasubramanian, Engineers in Information Management and Machine Learning at Microsoft.
This may be hard to believe but it took a couple of developers just a day to put this whole solution together, from the web page to the Machine Learning APIs to the real time streaming analytics and real time BI. This turned out to be a great example of the agility and creative power Azure developers get. 
One thing that the engineers apparently didn't leave to chance, despite building the site so quickly, was the age of Microsoft's head honcho.
Microsoft CEO Satya Nadella, age 47, gets a year nipped off via How-Old.net.