As social networking becomes progressively more integral with everyone's lives the amount of intelligence (in the FBI/CIA sense) that can be gleaned increases exponentially. Tweets, blog posts, Facebook posts, Instagram posts all leak information and reveal the what and where of the posters. Start analyzing sentiment, decoding concepts, looking for the social graphs revealed by interactions, linking those data to news and crime databases and you have a potentially powerful Big Data tool for identifying trouble.
And that's exactly what the Social Analysis and Intelligence Group, SAIG, will be offering with their hosted product, Second Sight. 
Second Sight, our flagship product, is the first of its kind: a sentiment-analysis system designed to inform decision-makers about trending social behaviors, with a focus on those behaviors that lead to civil unrest and violence. Our proprietary behavioral analysis algorithms consume mass amounts of raw social media data and distills that data into actionable information and forecasts.
As an example of what Second Sight might deliver, SAIG suggests looking at:
… the small business owners in Baltimore during the recent riots.  If the business owners had been warned the day before the riots escalated into violence, they could have locked away or moved expensive merchandise, moved business and personal vehicles, boarded up windows, and evacuated to a safer part of the city until the violence subsided.  Certainly, they could close up business and board everything up during the peaceful times of the protest, but, using the weather analogy, that is like boarding up the windows for a thunderstorm—why bother.

With early warning about impending violence, instead of 200+ businesses destroyed and looted, 100 or maybe 150 businesses survive the violence with minimal damage.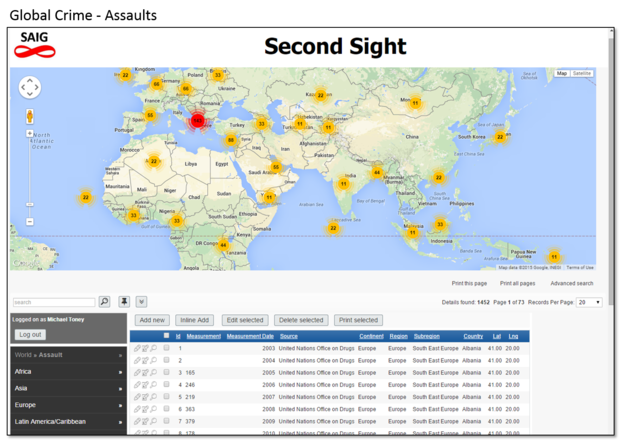 In the category of Social Media Monitoring and Analysis Features SAIG will be providing behavioral analysis and profiling, geo-location and clustering, sentiment analysis across 14 dimensions and 10 sub-dimensions, as well as trend analysis. 
National-Level Behavioral Analysis includes linguistic content analysis, behavioral trends over time and space, the ability to focus on politics, religion, economy, and crime as well as aggression, pessimism, optimism and pacifism and determine behavioral correlation. Second Sight also supplies violent leader behavioral analysis and likelihood estimates for violent actions.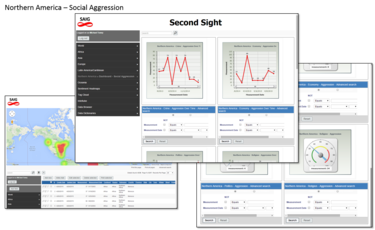 So, if you want to assess the risks in opening a subsidiary in France or evaluate the political sentiment in Congo regarding the dam your company is bidding to build, this might be just the tool you need.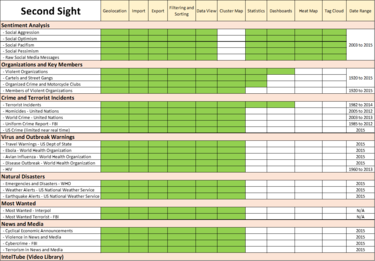 Pricing has not been announced but, considering that they're targeting "Nation-state governments, military organizations and non-government organizations (NGOs) responsible for issues of civil unrest, terrorism, and organized crime" you can bet it'll be spendy. Fascinating stuff and definitely the future of intelligence gathering and analysis.