First Look
Trello: A great way to get organized
You know you have to get stuff done, here's how to make sure you, and everyone else, knows what's what
Unless you're an unusually well-organized person one of the things you aren't is really organized. In general, it's hard getting your act together and one of the most powerful ways to overcome your laziness and cavalier attitude towards getting stuff done is to have the right tools. I recommend you check out Trello, "the free, flexible, and visual way to organize anything with anyone."
And they aren't kidding; Trello does just that.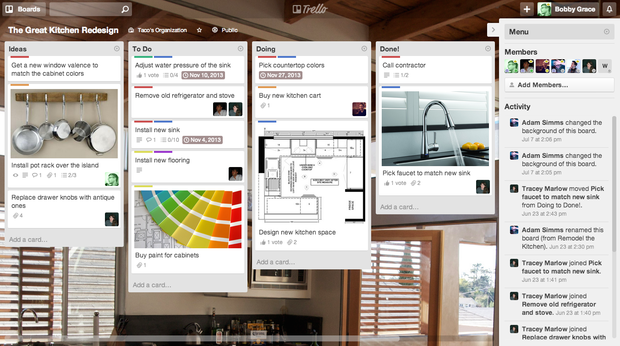 The user interface allows you to create lists each filled with cards. Cards can have text. images, checklists, labels, and due dates. You can move cards around, share your board with other people, and assign cards to them.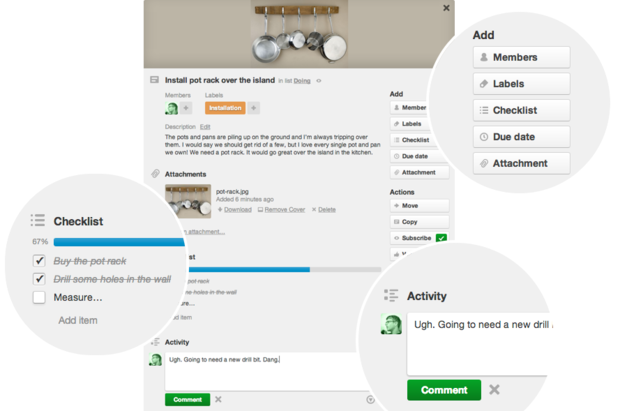 You can comment on cards, attach files by uploading them from your computer, Google Drive, Dropbox, Box, and OneDrive and when changes are made (comments, list items checked off, and so on) Trello's notification system will notify you when your using the Web interface, it will also do so by email, by desktop notifications via the browser, or via mobile push notifications and notifications stay in sync across all your devices.
Trello can also push events to your calendar via iCal and you can view the due dates of cards in Trello's own calendar view and you can enable voting on cards. Cards can also be set to visibly "age" if they're ignored and every board has a special email address you can use to create cards. Finally, Trello offers apps for Android phones and tablets, iPhone and iPad, Kindle Fire, and Windows 8.
For more organizational features if you're a Trello Business Class subscriber you can link your Google Apps account to Trello so you can add your entire organization in one go.
So, pricing: Trello is free for individuals to create as many boards and add as many people as they please. As a free user you're limited to 10 megabytes of card attachments while  a Trello Gold subscription increases that to 250MB for $5 per month ($45 per year). Trello Gold also allows you to choose from nine "premium"backgrounds (described as "hand selected," whatever that means), stickers and emojis or you can upload your own (really? Are those that that much of a selling point?).
Trello Business Class which provides plus business-grade administrative controls and security as well as bulk data upload and download and Google Apps integration is priced at $3.75 per user per month paid annually. Beyond 100 users Trello offers Trello Enterprise which adds 24x7 phone support, enhanced privacy and security, a dedicated contact person, and simplified billing.
There's much to like about Trello; it's simple, it's easy to train users on how to get the best out of it, and it helps you to organize elegantly way so you can focus on what needs to get done. Highly recommended, Trello gets a Gearhead rating of 5 out of 5.