Review: Mio Alpha 2 heart rate watch
Combining this watch with Bluetooth earbuds means a better workout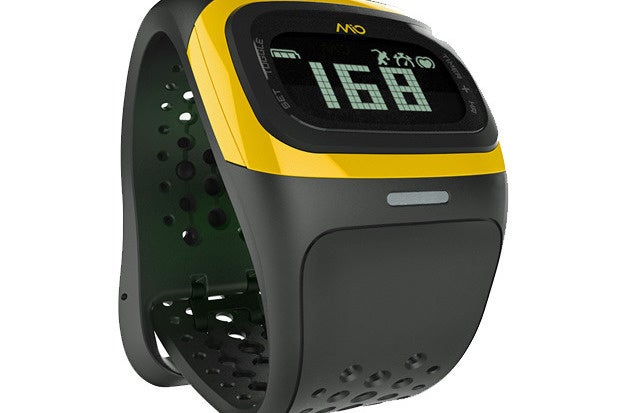 The scoop: Mio Alpha 2 heart rate training watch, by MIO, about $200 
What is it? It's not a smartwatch! It doesn't measure your sleep! You can't draw doodles on its display! But if you want a better way to track your heart rate while working out, this watch will do this and more. A sensor on the back of the watch that touches your skin measures your continuous heart rate on your arm, giving you the information via its display or via a Bluetooth-connected device (works with iOS and Android devices) through its Mio Go app. 
Why it's cool: The killer function of this is the continuous heart-rate measurement while the Alpha 2 is on your wrist, as opposed to having to wear an uncomfortable chest strap or, if you're on a treadmill, using the handgrips. When working with the app, the watch becomes valuable in terms of letting you know whether you are working too hard or not working hard enough in order for you to get into the proper maximum training zone (for your age/gender, which is calculated through the app). 
The other cool part is that the watch won't interfere with another Bluetooth device that I use - the Plantronics BackBeat Fit earbuds. I could connect the earbuds and the watch to the same device (in my case, an iPhone 5), and hear the music and get the heart rate at the same time. Previous watches I tried made me choose between the heart-rate monitoring and music (sorry, music always wins for me).
 The Alpha 2's strap and buckle formed a good fit around my wrist, although I probably tightened it more than I needed to (it left red impression marks on my skin for about 30 minutes after I took the watch off). I liked a tight fit because I didn't want the watch to slide up and down while I was running.
The app is very cool and easy to use, as it shows your heart rate on the phone's display during a workout, so you don't even have to look down at the watch display. The watch works with other third-party fitness apps as well if you already use one of those.
Some caveats: People who already own an Apple Watch may scoff and say that they can do all of this stuff on their device. I'm fine with that attitude, but this watch also costs about $150 less than the Apple Watch. As mentioned earlier, the app doesn't measure sleep or run any other apps, which may limit how much you use it.
In terms of a "needs to improve" critique, I'd add that the app could help describe more about what their zones mean - when I hit the red zone, for example, am I supposed to slow down, or does that just mean that I'm at the upper range, which can be good in some cardio training cases. Mio does a good job of explaining the different zones on their web site, it would be nice to see this explanation on the app as well. 
Grade: 4.5 stars (out of five).