The world of Apple prognosticators expect a Beats-infused streaming music service, support for native Apple Watch apps and a first look at iOS 9 at this week's Worldwide Developers' Conference. But iPhone 6S or iPhone 7 are expected to gain nary a mention by Apple big shots at the annual San Francisco confab.
Sure, iOS advances in Version 9 will be directly applicable to iPhone users, but who knows, Apple might be on to iOS 10 by the time its next iPhone surfaces.
Enter the iPhone concept designs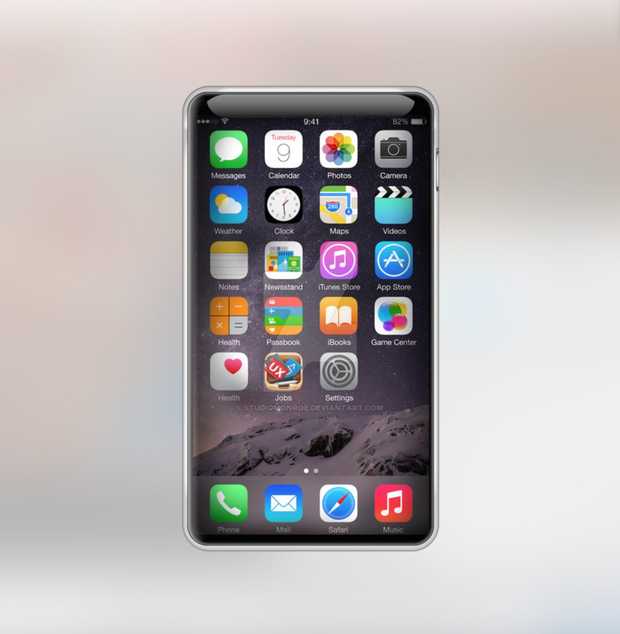 All of which can only mean one thing: We need design concepts to fill the void in real iPhone scuttlebutt.
Accommodating us is Studiomonroe at the Deviant Art design site. A new iPhone 7 concept there pushes the screen out to thin metal edges and does away with the home button.
"The idea of the concept was just that, reducing the phone's size without reducing the screen," Studiomonroe writes.
That doesn't mean you'd need to keep your fingers off the device's screen though: the haptics-happy Force Touch technology that Apple Watch users are dabbling with would also come to the iPhone 7 under this scenario.
Separately, an iPhone 7 design concept video by Jermaine Smit published this past week envisions a multi-talented home button and new camera positioning and capabilities.
The other very intriguing design concept this week took us back to 1984, when Apple introduced its second Macintosh, the 512K.
Pierre Cerveau, a Bangkok business development manager with engineering chops, writes: "Ever wondered how Apple's flagship product would have looked if it had been released 20 years before the first iPhone? Probably not... I've decided to provide an answer anyways."
Nice rotary dial!
Apple vs. Samsung
No need for Apple and Samsung to talk trash about each other, as industry watchers are happy to pit the two mobile vendors against each other.
Boy Genius Report, citing Chinese blog feng.com and its supply chain sources, says Apple is readying Full HD and 2K displays for its next iPhones, which would put them on par with the latest Android displays.
"Apple has never engaged in specs-matching wars with the competition when it comes to the iPhone and has thus drawn some criticism for its hardware choices regarding screen resolutions, camera megapixels, processor cores or the amount of RAM it offers. But that's about to change this year…"
Meanwhile, Samsung is said to be prepping a bigger version of its Galaxy S6 Edge phone to counter Apple's success in the phablet market with its 5.5-inch iPhone 6 Plus. Apple Insider, citing an Italian blog called HDblog.it, says a Galaxy S6 Plus could be revealed in matter of a few weeks that ups its curvy screen size from 5.1 to 5.4 or 5.5 inches. A 5.7-inch Galaxy Note 5 could also be in the works, according to the report.
Samsung needs to do something, according to Apple Insider: "Samsung had a particularly rough 2014 after Apple launched its larger iPhone 6 and iPhone 6 Plus, pushing operating profit to an all-time low."
iPhone 7 ETA
Just a quick dose of "when will the next iPhone come out?" speculation. Boy Genius Report and others picked up on reports out of Asia that Apple is on the verge or partnering with a company to make screens for a 4-inch phone, perhaps the iPhone 7c, to go along with an iPhone 7 and iPhone 7S. And the c might not necessarily denote plastiC, as in the iPhone 5c. The thinking is that these phones will all debut next year.