First Look
Curb: Home power monitoring comes of age
What's consuming the most power in my building? What's consuming more power than usual? How big will my electricity bill be? Curb knows.
I just received my electricity bill and, to my annoyance (and horror) the bill is just over $100 more than the previous month! I have mostly LED lighting and lots of home automation controlling everything possible and I seem to endlessly say "Turn off the damn <fill in the blank>" but I have no idea what kicked the bill into the stratosphere. This wouldn't be the case if I had the Curb home energy intelligence system installed.
Curb consists of a small box that's installed in your main circuit breaker box (a licensed electrician is required) and wired into the individual circuits (Curb calls these "zones") of your building.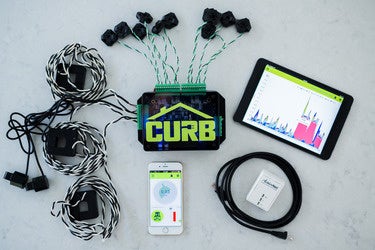 The Curb box communicates via your Internet connection with the Curb servers which store and analyze your power usage and the results can be viewed on the Web or on iOS and Android devices with the company's free Energy Curb app. 
You can view both historical and realtime use and cost at either individual zone level or for the building as a whole. Curb can also send alerts when abnormal loads are detected such as a refrigerator door left open causing the compressor to keep running or an appliance not switched off.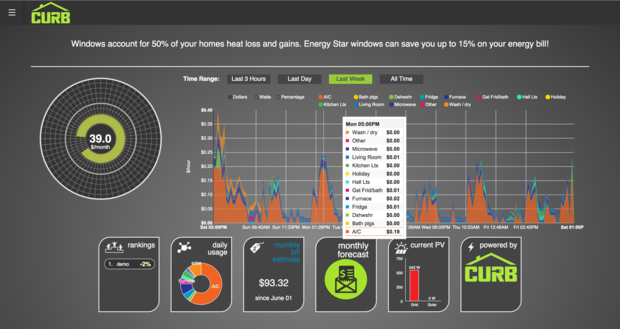 Curb's server-based analytics will also make recommendations on how to decrease your power usage based on the data it collects and "third-party integration enables control of other Wi-Fi enabled devices, thermostats, and outlets or set automated schedules directly from the Curb app."
Curb comes in two models; one priced at $249 that will monitor up to four zones and another at $349 that will monitor up to 16 zones. If you have more than 16 zones you can install multiple Curb systems which will be treated by the Curb web service as a single installation so even large buildings with many circuits can be monitored as a whole. And even if you have more zones than your Curb setup can monitor, the system still tracks your whole house power usage by measuring the total power used on the incoming power line. 
This is one of the most exciting premises automation products I've seen for a while and Curb's Indiegogo campaign kicks off today (they "soft" launched on Sunday and they're already reach 75 percent of their goal!) with product due to ship in September. Note that unlike many crowdfunded projects Curb already has working hardware and software and is currently in beta in 175 homes so there's little risk in supporting their campaign.
I'd bet on Curb becoming huge; this is a company and product line to watch.