Slice Intelligence's Apple Watch estimates confirm that Apple needs a different narrative for innovation in new product categories. The company's Wizard of Oz –like assertion that it knows everything that consumers might ever want hamstrings its ability to introduce an Apple version of an evolving product category that's not perfect.
Business Insider and MarketWatch have both announced the death of the Apple Watch, with data from Slice Intelligence pointing to a 90% decline in Apple Watch sales since the device's opening week on the market. It might just be a bad case of schadenfreude due to the ingestion of bad data. Literally translated from German, schadenfreude means damaging joy, but often is interpreted to mean evil glee. Apple, the most valuable brand, is under a microscope because of its success compounded by persuasive marketing. Now that a marketing survey may indicate a drop in Apple Watch sales, many observers are rejoicing with evil glee that the hugely successful company might fail. But the shipment data hasn't been verified by Apple, and no one knows the company's expectations for Apple Watch sales over the entirety of its debut year.
It's still early in the evolution of wearables, and even earlier in the evolution of the Apple Watch. The perspective used in these reports makes them possibly accurate in the short term, but just as possible wrong in the long term. Apple's development framework Watchkit isn't complete yet. It's not complete yet because Apple doesn't really know what kind of apps developers will build, and most developers don't really understand what a smartwatch is yet. When the Watchkit becomes more robust and the developers better understand the platform, the Apple Watch will be more useful and popular.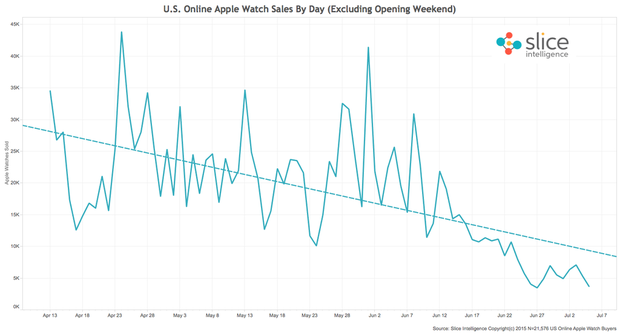 What does this data from Slice Intelligence mean? Slice used data from e-receipts from its panel of 2.5 million online shoppers to estimate Apple Watch shipments. Placed in context, the accuracy of Slice Intelligence's panels looks promising because of the large size of its panel. But the 215 million online shoppers in just the U.S. dwarfs the panel, according to Statista. Panels can be inaccurate.
In January 2014, Kantar pegged Apple's Chinese smartphone market share based on its survey panels at 19%, and shortly thereafter IDC estimated Apple's market share at just 7.3% based on sell in estimates. Kantar's estimates were simultaneously right and wrong. There are two Chinas. One China comprises the 40 largest and wealthiest Chinese cities in which all the major western brands invest their marketing dollars, and the other encapsulates all of China. Kantar's measure of Apple's market share in wealthy Chinese cities was fairly accurate, but wrong for all of China. Though useful for Wall Street analysts to plug into their spreadsheets to estimate Apple's revenue and profit performance, what Slice Intelligence's data really means is unclear.
The response to Slice Intelligence's estimates does point to how hard it is to innovate with so many watchers and critics. And Apple's assertion that it is great and all-powerful when it comes to understanding the needs of its users doesn't make it easier to iterate and improve a new product.