We take for granted today that non-profit organizations are to be found in the Internet's .org neighborhood, just as commercial entities are on .com. And it was 30 years ago today that the first of the former addresses – mitre.org – was registered.
From a press release:
To commemorate the 30-year legacy of .org, Public Interest Registry – the nonprofit operator of .org, .ngo and .ong – launched www.happy30th.org, where users can explore notable .org websites through an interactive timeline and discover how these websites and organizations have changed throughout the past 30 years.

"Thirty years and more than 10.5 million registrants later, the .org domain continues to give a voice to organizations and individuals working on behalf of the greater good," said Brian Cute, CEO of Public Interest Registry. "From encouraging philanthropy and volunteerism to preserving natural and cultural heritage, fostering economic growth and much more, causes that live on .org bring incalculable benefits to our communities, our society and our shared planet. We look forward to many more years of giving organizations of all kinds a trusted online home for building communities and working towards a common cause."
The timeline is an impressive piece of work in and of itself that introduced me to a number of non-profits about which I had previously been unfamiliar.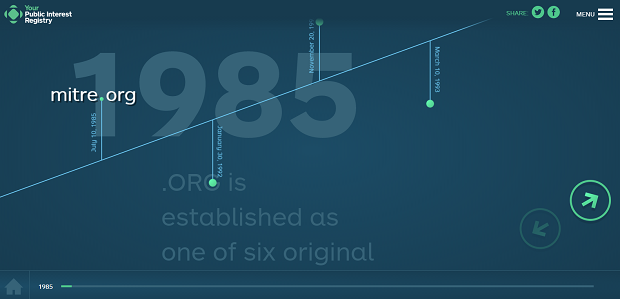 The first .com address – symbolics.com – also marked its 30th anniversary earlier this year, although, unlike mitre.org, it exists as a shell of its former self.
And, as we noted here a few weeks ago, the fourth-oldest .com has become a site you're better off not visiting.
Welcome regulars and passersby. Here are a few more recent buzzblog items. And, if you'd like to receive Buzzblog via e-mail newsletter, here's where to sign up. You can follow me on Twitter here and on Google+ here.