Wouldn't it be something if Apple's big iDevice news for 2015 was this week's refresh of its iPod touches and iPods, and not a new iPhone? Yes, but that's not going to happen: an iPhone 6S or iPhone 7 is sure to be on the way.
Heavy News
And word this week was that the next big iPhone could be a little plumper than the iPhone 6.
The Week, citing Engadget Japan, reports that a schematic drawing shows Apple's new phone will be 7.1mm thick, up from 6.9mm. After all, how is Apple going to squeeze in the much anticipated Force Touch technology found on its Apple Watch and new MacBook Pro without adding a little bulk? (As one publication put it, Force Touch will convert the iPhone into "one giant button.")
Let's just hope it doesn't get much heavier. After all, longtime San Antonia Spurs basketball player Matt Bonner, now a free agent after a disappointing past season, blames recent elbow troubles on switching to the slightly larger iPhone 6 this past year. Here's what he tells the Concord Monitor in New Hamphire:
"Everybody is going to find this hilarious, but here's my theory on how I got it," he said. "When the new iPhone came out it was way bigger than the last one, and I think because I got that new phone it was a strain to use it, you have to stretch further to hit the buttons, and I honestly think that's how I ended up developing it."
SIMpler iPhone connectivity on the way?
One potentially exciting future for iPhone users that is Apple, along with Samsung, is reportedly deep into talks with mobile carriers about building standardized electronic SIM cards into their devices that would give users much more flexibility in terms of moving from service provider to service provider (more details in the Financial Times). Traditional SIM cards lock you in to specific carriers, but under this new GSMA industry association effort, AT&T, Deutsche Telekom, Vodafone and and others would support the move. Apple wouldn't comment on this latest development to the Financial Times, though the company did at least indicate a move in this direction with a new SIM card for its latest iPads that works across a few different carriers.
Design concepts: Throwing a Curve, Seeing Double
A contributor to the Deviant Art design website put forth a concept for an iPhone 7 with a curved body, making it easy to stick in your pants pocket, assuming you have a curved body.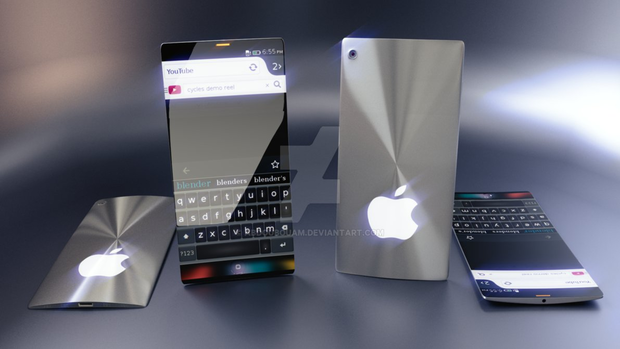 Meanwhile, Jermaine Smit has posted a Youtube video concept for the iPhone 8 that envisions a device with two screens, one that's all about the pixels and the other that's all about battery life. What's more, this concept includes wireless charging and a laser-enabled keyboard...
Wireless charging can't come soon enough for some. A UK man was arrested recently for stealing less than a penny's worth of electricity to power up his iPhone on a train recently.