If there's one Web site marketing technique that's really, really annoying, it's audio or video content that automatically plays when you load a URL. Even more annoying is content that plays sometime after you've loaded the site and, if you're at all like me, you then have to scramble to find the tab and hope to be able to stop whatever it is from playing.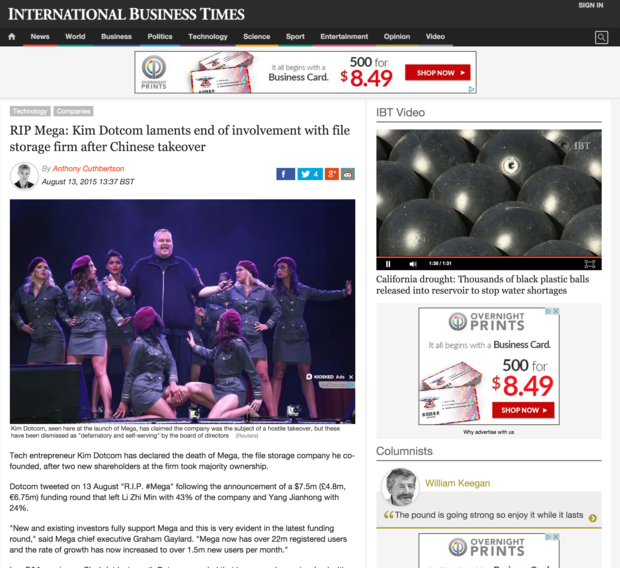 If the site that's annoying you is the UK's International Business Times then it's doubly irritating. This is because all of their pages have a video player at the top right of the page that not only starts playing their lame news videos after a delay but also plays ads which, even though they have controls for volume and pause, the controls don't work for the ads!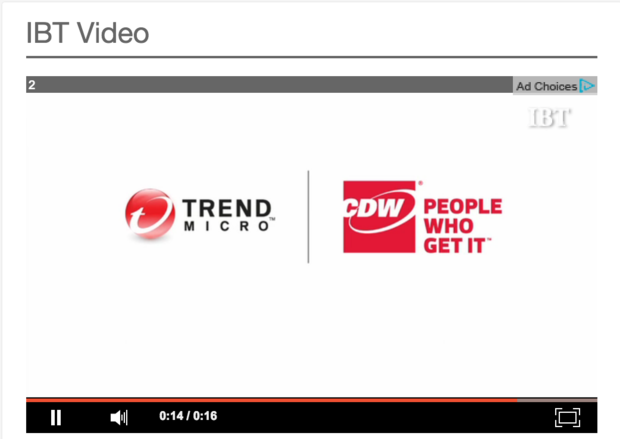 With the release of Chrome version 32 in February last year browser Google recognized this problem and included an icon on tabs that appears if the tab contents are playing audio, like this:

What they didn't do was to enable the ability to stop audio from a tab. The answer? Enter the following in the address bar:
chrome://flags/#enable-tab-audio-muting
You'll see this screen: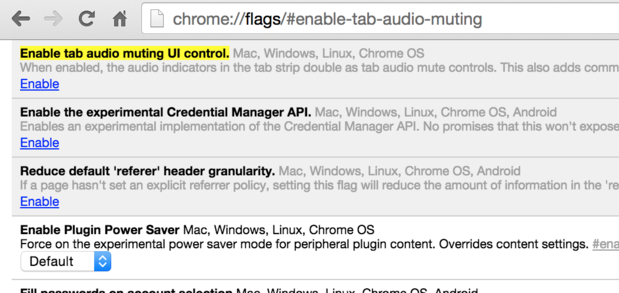 Click on "Enable" under the "Enable tab audio muting UI control" section (note this feature works in Chrome on OS X, Windows, Linux, and Chrome OS) then click on the "RELAUNCH NOW" button at the bottom of the page. Voila! Next time you hear audio you're not expecting scan the tabs, click on the offending tab's speaker icon and it will change to this and the audio will, mercifully, stop:

Firefox gained a similar facility with the Noise Control add-on that appeared with version 38 released in May this year. The only issue with this extension is that it only works with HTML5 video and audio so while it can block YouTube audio it can't block Flash. But not to be left in the dust by Chrome, on July 31, this year, Mozilla implemented audio indicators and muting in the Firefox Nightly build which does also control Flash audio. According to a VentureBeat article:
Mozilla is currently working on adding a feature for Firefox to display an icon in tabs that play sound, and additionally allows users to mute such tabs," Ehsan Akhgari, Web API tech lead at Mozilla, told VentureBeat. "The feature has not been released yet, but it is expected to work similarly for Flash content on Windows and Mac, which is where the new Flash API is supported. We're expecting to enable this feature on Firefox when Bug 486262 lands, among other Gecko dependencies. This feature is currently in review but we do not currently have an estimated timeline for it to land."
In OS X 10.11 "El Capitan", coming this autumn, the Safari browser will gain native tab muting; idownloadblog.com has a good writeup of what you'll be able to do when the next version of OS X gets pushed out in the next couple of months.
Alas, as far as I can determine, for IE or Opera, no facility to mute individual tabs is available or forthcoming. If you know otherwise, drop me a note at feedback[at]gibbs.com.