First Look
Papago GOSAFE 520: A great dash cam with a few flaws
Lots of interesting features with great video and still shots but also a few "huhs?"
Back in July I wrote about a dashcam and the nice folks at Papago suggested I take a look at one of their competing products, the GOSAFE 520. Papago is one of the oldest vendors in the dashcam market after starting in Taipei, Taiwan, in 2001 and having since opened offices just about everywhere including here in the US.
The specs of the GOSAFE 520 are impressive starting with recording video and (optionally) audio in H.264 MOV format with a 146-degree wide lens at a maximum resolution of 2560 by 1080p with a 21:9 image ratio at 30FPS (other formats include 2304 by1296p, 16:9, 30FPS; 1920 by1080p, 16:9, 30FPS, and 2180 by 720p, 16:9, 60FPS). The dashcam also implements high dynamic range imaging which improves the overall detail when there's a wide range of light levels in a scene as is often the case when driving, for example, in sunlight approaching a tunnel.
Powered by either the internal battery or from a 5V car adapter the dashcam comes with a suction cup mounting, a USB cable, and a car charger cable.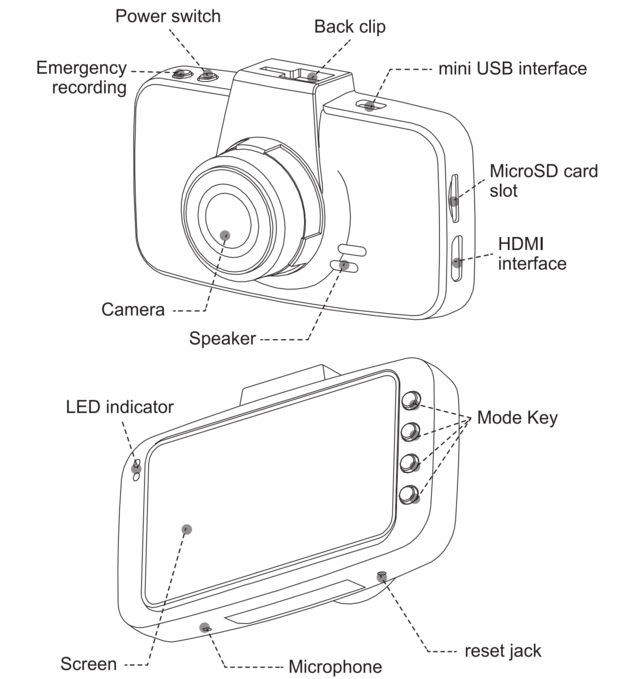 You can use the GOSAFE 520 for both video and still photos. Storage is on a Micro SDHC card (maximum 32GB which provides almost 6 hours of recording at 720p, 60FPS; once full, the oldest video is overwritten) and it has a 3-inch, 960 by 240 pixel color display. You can view recorded content via the mini HDMI port (both NTSC and PAL are supported).
The GOSAFE 520 has some neat features. In common with competing dashcams it has an inertial detector that triggers the saving of video to a protected (non-overwritable) folder in the case of an accident. Emergency recording can also be triggered by a button on the dashcam housing. 
You can also enable Motion Detection mode which starts recording when movement is visually detected; when motion is no longer detected then after 60 seconds the dashcam stops recording until movement is again detected. This mode only works if the dashcam has continuous power.
The GOSAFE 520 also other optional features: Driver Fatigue warning sounds an alarm after a selectable time period; Light Reminder gives an audio alert when the light level drops; Stop and Go mode detects when your vehicle has stopped for 10 seconds and sounds an alert when the vehicle in front moves forward. The video and still images captured by the GOSAFE 520 are very good and the wide screen format is great. 
The dashcam can also be set  to remind you to reformat the SDHC card every few weeks to ensure smooth operation (this is a little odd as it implies that the dashcam's firmware is known to corrupt the file system). Moreover, Papago warns that not all SDHC cards are compatible:
The following SD card brands have been tested and are compatible with our dashcameras: ADATA, Kingston, Patriot, and Transcend (8GB-32GB max and must be rated class 10 or higher). Others may work, however these are the brands we have tested. 

We do not recommend SanDisk or Samsung cards because after a short period of time they often become incompatible and cause disruption in the operation of the dashcam.
I used an approved 8GB Class 10 Patriot card and after a couple of weeks the dashcam decided the card wasn't readable for no reason I could determine. The dashcam warns you about this condition with a message on the display but this is not something you want to happen while driving. Surprisingly, I couldn't get the dashcam to do a reformat of the card but after I reformatted it on a PC, the card worked fine. 
It also looks like the clock in the GOSAFE 520 wanders; after a total of about three weeks use the time appears to be just over two minutes fast so you'd be advised to check the time settings regularly.
Finally, the GOSAFE 520 has a happy and very annoying startup tune that ends with a sound like a cabasa. There's no way to disable this without turning the volume all the way down which, of course, disables all warning sounds.
This is a really good dashcam with a few oddities but well worth the asking price which can be as low as $160. The Papago GOSAFE 520 gets a Gearhead rating of 4 out of 5.
Bonus criticism: Papago is not the only company that fails to do this but I have to point out that companies have to proofread their Web content and manuals. The FAQ on the Papago site, referring to another dashcam model, notes:
The P3 includes a 16 GB memory card which is we [stet] stored the digital map.
Sigh.
[this article was corrected: The video format is H.264 MOV.
Papago GOSAFE 520: $139.99 Amazon.com