Apple announced the iPhone 6s and 6s Plus yesterday simply because Apple always announces an "S" model a year after a new, incrementally numbered iPhone is announced. The midlife "S" version rekindles and stokes revenues halfway through an iPhone model's two-year life. This might have been any September during "S" years, 2013 or 2011. So rote was the experience that even Apple's Marketing VP Phil Schiller's enthusiasm was a little distant. The iPhone 6s and 6s Plus with 3D Touch is Apple's response to Google Now on Tap with 3D Touch, and the 6s camera its bid to reclaim the "best smartphone camera" title from Samsung's Galaxy S6.
The enormous iPad and Apple TV, however, represent potentially new and different businesses that really pique the imagination.
iPad Pro: Destined to get a head start in business
Judging from two of the partner demos, Microsoft Office and Adobe, the expansive iPad Pro is designed with business use cases in mind. The 12.9-inch iPad Pro won't top the Best Buy top-seller charts with an expensive $800 starting price. To most users, tablets have become the forgotten step children of mobile devices, left behind in the living room or on a desk. Smartphones and laptops are consistently deemed essential when backpacks and briefcases are packed. Because tablets add weight without added functionality tablets, they are jettisoned by an increasingly mobile population when they leave the home or office. IDC's forecasted 8% year-over-year decline in tablet shipments supports this mobile device sibling rivalry.
Contradicting this projected gloom, the Microsoft Surface, a tablet with a detachable keyboard that runs an operating system that no one likes, reached $1 billion in sales in 2014 and grew by 117% last quarter. Apple, the Prometheus of innovation, couldn't have missed this.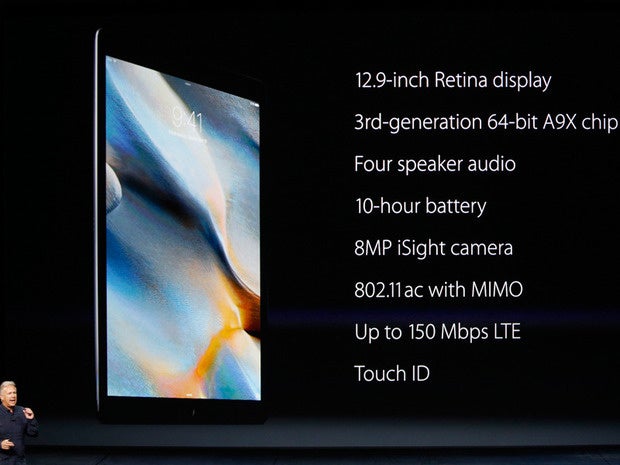 Don't forget Apple and IBM's pact to sell iPads with IBM software to enterprises. Like the Microsoft Surface, the iPad Pro has a detachable keyboard needed for useful work, and Apple has added a Samsung S Pen-like stylus for on-screen writing, subtly called the Pencil. Adobe's very impressive on-screen Photoshop demo is predictive of all the writing and drawing on paper pads and annotating on printed documents that could be replaced with a system that records, saves, and preserves work for accountability, security, and reuse.
The iPad Pro has repositioned the lackluster iPad into the mainstream laptop market, where Apple has proven with its MacBooks that it can consistently grow both market share and revenues. The company is gambling on its formidable user interface design strengths to create new use-case categories with the addition of a keyboard and stylus Pencil. Don't be persuaded to underestimate the Pencil – certain unions forbid members to use a keyboard, creative professionals sketch constantly, and engineers annotate printed schematics and resubmit them to be redrawn using mechanical and electrical computer-aided design tools.
Apple TV: Designed for a new age of TV content
The precipitating event that provoked the introduction of the Apple TV update is the availability of content. In addition to iTunes, Hulu, and Netflix television and movie content, HBO and Showtime content have become available a la carte without a cable television subscription. And the amount of content available independently from the television networks is growing, according to a New York Times report. That will only give Apple more to sell and deliver to consumers over the top.
Apple TV runs a version of iOS, much like Google TV runs Android, so developers can create apps and port casual games to play on the large communal TV screens. Apps may be important someday, but right now the Siri Remote and the user interface (UI) is what's important, because it could substantially increase iTunes television and movie content sales in much the same way the iPod created online music sales.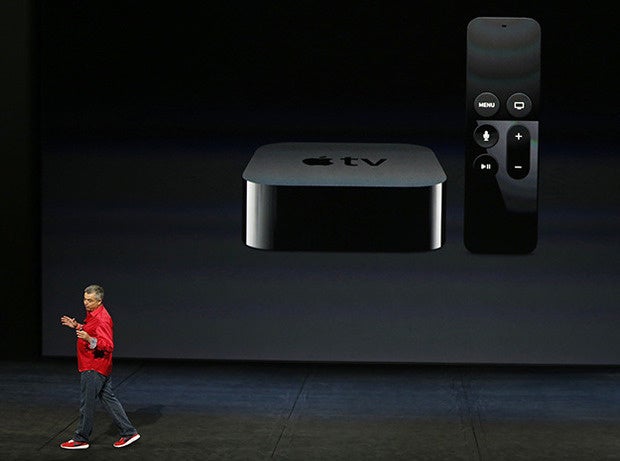 The Siri Remote UI uses simple voice-based search to find content and smooth, simple touch gestures to select content and control viewing. The Siri remote looks like the long-awaited redesign of the TV remote. And if it proves to be, Apple TV could break out into a substantial TV business generating revenue from both hardware and content.
Tim Cook promised that Siri content searches would include iTunes, Netflix, Hulu, HBO, and Showtime. Apple will fulfill Cook's promise and maybe include other movie and television content in the searches, though one can guess that as content choices grow on iTunes and iTunes pricing, a la carte, or all-you-can-eat Netflix buffet style, viewers will increasingly choose iTunes. Stay tuned to see how the Apple TV network evolves.
Consumers will continue to buy iPhones, whatever the model designation. The Apple Watch, however, can be summed up best by Richard Windsor of Radio Free Mobile in his post about the announcement:
"That magic spark of genius that makes the user want to go out and buy an Apple device is completely absent from [the Apple Watch] and I think that it will continue to be niche at best."
Apple TV and the iPad Pro, on the other hand, could spark new growth for Apple.