Like many callings, being a competent IT professional involves doing things that don't show up in job descriptions or company manuals. Getting the job done quickly and efficiently often requires smart workers to circumvent established procedures and so-called best practices in a wide variety of ways.
Everyone is doing it, "but they don't want to talk about it," said Andrew Stern, a broadcast IT engineer at Cumulus Media, which says it's America's second largest operator of radio stations. I met Stern when he sat on a panel of IT professionals at a Spiceworks Unplugged event in San Francisco this week, and he agreed to let me share his remarks on a few commonplace but largely under-the-radar IT practices.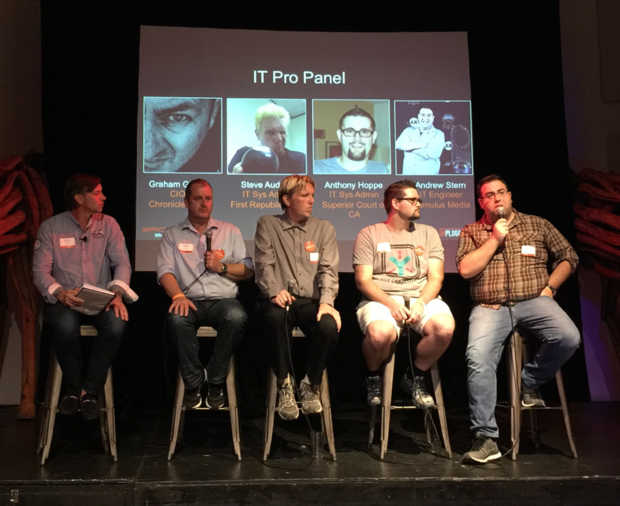 Security is a balance, not an absolute.
Security is a "super delicate balance," not an all-out war, Stern said.
"We've [consciously] given up a little security in the name of giving people access," from their mobile devices, he admits. While panelists from banking and government looked on in apparent horror, Stern said it was his practice to do what it takes to support his users on the move, even at the risk of adding security vulnerabilities. "It's where they are," Stern explained.
While certain sensitive data—such as credit card numbers—is always carefully secured and encrypted, he told me, other data is stored on externally on Box. That may not be quite as secure as it would be behind his corporate firewall, he said, but "it's good enough." Similarly, Cumulus' guest network access is just user name and password, because it's important for people to have fast, easy access. When it comes to bulletproof security, once people have mobile phones, Stern said, "you've already ceded that ground."
"A vendor search often starts with a Google search."
Think IT folks always know what they want and the best places to find it? Think again. While Stern tries to buy his core technology from known vendors, he said he's "willing to experiment" in other areas. And that often means researching from scratch, not just beating a path to a particular solution.
Product reviews can be a quid pro quo.
If a vendor offers a discount (15% to 20%) and asks Stern to take a few calls from customers in exchange, his response is often, "Yeah, I'll do that." And while he'll always give callers a "fair review" of the product in question, if he has a good relationship with the vendor, he may "bias it a little positive… If you help me out, I'll help you out," Stern explained. "That's just how the business works."
IT buyers know to wait for the end of the quarter to get the best price.
This item came from one of the other panelists at the event, but it fits the theme so well I couldn't leave it out. Obviously, waiting until the end of the quarter to pull the trigger on a purchase in search of a better deal is a tactic neither vendors nor buyers like to talk about much, but if you think IT pros are making buying decisions willy-nilly, you're way behind the times. Modern IT folks are increasingly sophisticated in how they manage their budgets, and their business.