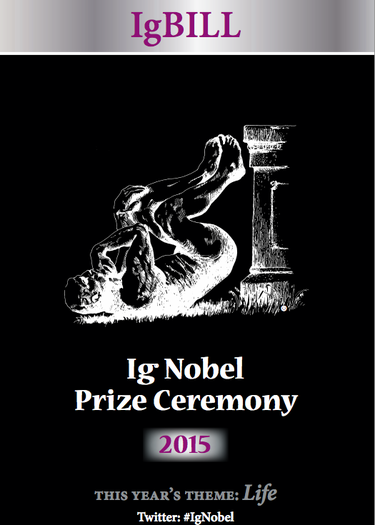 It's hard to believe that Improbable Research's Ig Nobel prizes have been around for a quarter of a century, but indeed tonight is the big 25th 1st Annual Ig Nobel prize ceremony in Harvard Square.
The prizes recognize research that makes you laugh AND think, and over the years has focused on everything from the antics of dung beetles to Nigerian spammers. As always, real Nobel laureates will hand out the Ig Nobels.
A webcast of the ceremony starts at 5:40 EST here.
Among the highlights: 24/7 speeches in which top thinkers will explain their subjects twice: once in 24 seconds and then in 7 words. Firefly sex and Internet cat videos are among the topics on the agenda.
Winners will conduct presentations at the Massachusetts Institute of Technology on Saturday, Sept. 19.
We've gone into the Wayback Machine to highlight winners from the previous 24 ceremonies and will post a recap tonight on the 2015 winners.
In the meantime, here's a look at 2014's winners.