If you have an iDevice and you've enabled Apple's Find My iPhone service, it may well do you little good as I recently discussed unless, that is, you have your own, shall we say, "recovery services." But should you have some "muscle" and for whatever reason your iPhone 3, 4, 4S, or 5 isn't reporting where it is, you could try locating it via iphonetrace.
To identify iPhones, the service uses the GSM Association's International Mobile Equipment Identity Database (IMEI DB), "a global central database containing basic information on the serial number (IMEI) ranges of millions of mobile devices (e.g. mobile phones, laptop data cards, etc.) in use across the globe."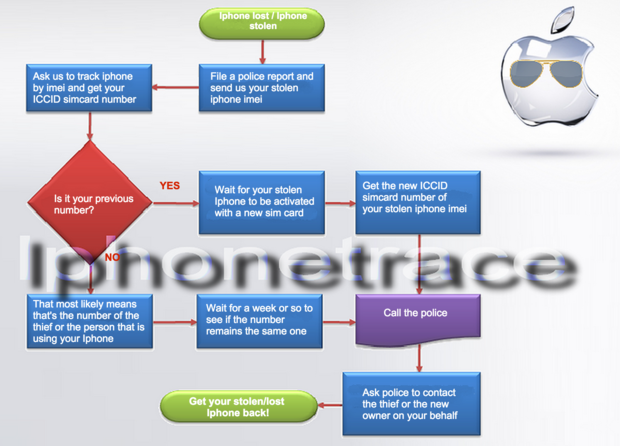 iphonetrace.com claims:
We can retrieve a lot of useful information on your stolen or lost Iphone such as the simcard number that is being used to activate your iPhone/iPad, when it was activated and used, carrier name (service provider), what country it originally came from and what country it is currently in and much more. We will not, however, be involved in any resulting legal issues between you and the person who stole your iPhone, bought your stolen iPhone, or is currently using your lost iPhone. The information we provide should be taken to authorities who can help you catch the thief faster and more efficiently than if you didn't have this information on hand.
The iPhone IMEI lookup shows (with example data):
MODEL: IPHONE 4S 16GB BLACK

IMEI: 01XXXXXXXXXXX21

SERIAL: DNXXXXXXXXXX

ICCID: 8957101XXXXXXXXXX847

Last Restored: 2013-01-26

Network Unlocked: False

Activation Status: Yes

Activation Date: 2012-04-21

Activated Carrier: Vodafone - Spain ESP

Active Location Country: India

Country of Origin: United States

Current Carrier: Spain Vodafone

Applied Policy Id: 299 - Spain Vodafone

Next Policy Id: 299 - Spain Vodafone

(PH) Telephone Technical Support: No phone support (Expired)

(HW) Repairs & Service Coverage: Limited Warranty (Active)

HWStarted On: 2012-04-20

HWEnding On: 2013-04-19

HWDays Left: 70 days.
iphonetrace.com notes, "If your Iphone is Unlocked, Apple Database may not Show Country or Carrier" so what you'll get will be:
IMEI : 013XXXXXXXXXX

Unlock code :

 

IMEI: 013013XXXXXXXXXX

Serial Number: DNTKxxxxxxxx

Part Description: IPHONE 5 16GB BLACK

Product Version:

Coverage Status: Apple Limited Warranty

Coverage End Date: 29/05/14

First Unbrick Date:

Last Unbrick Date:

Next Tether Activation Policy Description: Retail Unlock.

Lock Status: Unlocked
The price for a one-off report on an IMEI is $9 and the company promises "If we fail to provide you with any information on your iPhone IMEI within 2-5 days or if your IMEI is not available in our database we will provide you with full refund." iphonetrace also offers other plans that include searching fIMEI records for either three months ($29) or forever ($49). 
As I pointed out in my previous article on tracing missing iDevices, getting anything done about recovering the product may be impossible as the police and any other authorities such as telephone companies may not have adequate cause to go knocking on doors, may be too busy with more serious problems, or may simply not give a rat's ass about your problems. iphonetrace.com doesn't improve on this but should you feel you need closure on the fate of your property or you can engage "friends" to help you with recovery, then the service may turn out to be very useful.