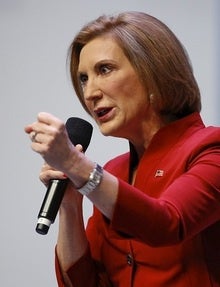 Until her surge in the polls and a critically acclaimed performance in the most recent debate, Republican presidential candidate Carly Fiorina had limited trouble selling her tenure as CEO of Hewlett-Packard as the foundation of her case to occupy the Oval Office.
Yes, her record at HP had already been criticized in her earlier run for the U.S. Senate and throughout the current campaign cycle, but that scrutiny is now being ramped up in a big way – as would be expected.
From an analysis on Salon:
Here's the thing about running for president. Once you become somebody—a strong debater or a leader in the polls—you have to deal with an eager and enthusiastic press that wants to know your background. This isn't just an opportunity for aggressive journalists; it's a chance for critics and political rivals to do damage. And it's this scrutiny that is often the thing—or one of them—that destroys a candidacy, especially one like Fiorina's that rides on voter anger and discontent.
Here's just one example written by Jeffrey Sonnenfeld, professor and senior associate dean at the Yale School of Management,
Here are the facts: In the five years that Fiorina was at Hewlett-Packard, the company lost over half its value. It's true that many tech companies had trouble during this period of the Internet bubble collapse, some falling in value as much as 27 percent; but HP under Fiorina fell 55 percent. During those years, stocks in companies like Apple and Dell rose. Google went public, and Facebook was launched. The S&P 500 yardstick on major U.S. firms showed only a 7 percent drop. Plenty good was happening in U.S. industry and in technology.

It was Fiorina's failed leadership that brought her company down. After an unsuccessful attempt to catch up to IBM's growth in IT services by buying PricewaterhouseCooper's consulting business (PwC, ironically, ended up going to IBM instead), she abruptly abandoned the strategic goal of expanding IT services and consulting and moved into heavy metal. At a time that devices had become a low margin commodity business, Fiorina bought for $25 billion the dying Compaq computer company, which was composed of other failed businesses. Unsurprisingly, the Compaq deal never generated the profits Fiorina hoped for, and HP's stock price fell by half. The only stock pop under Fiorina's reign was the 7 percent jump the moment she was fired following a unanimous board vote. After the firing, HP shuttered or sold virtually all Fiorina had bought.
The vast majority of political pundits remain unconvinced that Fiorina has any significant chance of winning the Republican presidential nomination.
Chief among the reasons is that what she is selling simply isn't true.