There were three things that weren't leaked ahead of Google's event yesterday. One was the Chromecast content discovery app for Android and iOS that accompanied the introduction of the already-leaked new Chromecast streaming TV device. The same goes for Chromecast Audio, a Wi-Fi hub that converts wired stereo speakers to wireless, also debuted yesterday. And Google Voice leaped ahead of Siri with the announcement that the Google API will be opened to independent developers, letting them create voice-enabled apps.
Google also announced much of what had previously been leaked: two new Nexus phones, a new Chromebook Pixel, and a partnership with Spotify. Let's start with the unexpected and then confirm the leaks.
Updated Chromecast with new content discovery app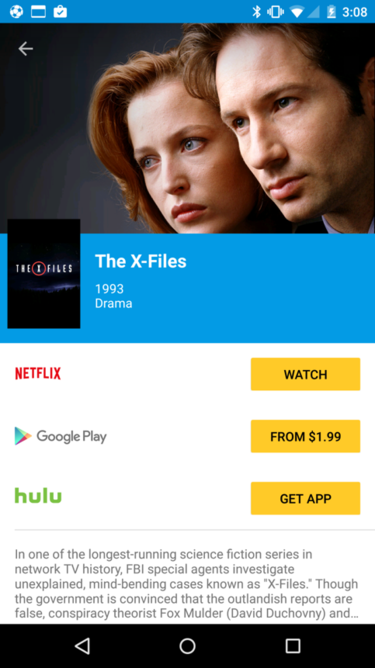 With the new Chromecast discovery app, viewers can search categories of video content with spoken or typed commands. The app will return all the Chromecast-enabled app options installed or available for viewing the video content the user searched for, as shown with the X-Files in this image. This makes Google the top-level guide directing the viewer to the app. It will list the sources where content is available, but the app will always gives the version available via Google Play a chance to be watched. Streamed content is a huge revenue opportunity for Google and a convenience for consumers who want to buy over-the-top video content.
The new Chromecast app not only offers more content, but improves functionality and user experience.
The previously leaked Chromecast device was re-designed to make it easier to both connect to a television's HDMI port and disconnect it and move it to another television. The new Chromecast has more memory, a faster processor, and 2.5 and 5 GHz band 802.11ac Wi-Fi, making it the perfect match for Google's recently introduced ultra-high-performance OnHub Wi-Fi router.
There's still no change in price, though – the Chromecast will continue to sell for $35.00.
Chromecast Audio
Anyone who owns or has used Bluetooth speakers, like those made by Sonos, knows how convenient they can be. Chromecast Audio resembles these, except it's a small, colorful, hockey puck-shaped device that converts wired speakers to wireless. Chromecast uses Wi-Fi instead of Bluetooth, giving it a stronger signal carried over a longer distance. It pairs easily with all the Android, Chrome, and iOS devices on the Wi-Fi network.
Chromecast Audio connects with a 3.5mm, RCA or optical inputs, so almost any set of speakers can be converted to be wireless, connected, and moved to the most acoustically pleasing location. Multiple Chromecast Audio speakers will synchronize to play a single title throughout the home. Compared to Sonos, Chromecast Audio is a cost-effective convenience for consumers and a big streamed music content opportunity for Google.
Google Voice opened to independent developers
Google demonstrated a National Public Radio App that used Google Voice for navigation, demonstrating a natural voice interaction to locate the program the listener wants to play.
Until now, Google Voice and Apple's Siri were only available to internal developers. Independent developer access to Google Voice is a game changer. Google just took the lead in what had been a close race with Apple, and it will likely hold this lead until third-party developers can build voice-enabled apps for Apple too.
The Nexus 6p and Nexus 5X: The leaks were right
Google announces a new Nexus phone every September, but this year it announced two. Google works with its partners to design and build a hardware platform that takes full advantage of the latest Android release, in this case Android 6.0 (also called Marshmallow), to set the direction for the Android ecosystem for the next year. Here's a summary of these two Nexus phones the 6P and the 5X:
Nexus 6P
Google partnered with Huawei to create the Nexus 6P. Crafted from aeronautical-grade aluminum, the 6P is attractive, thin, and light. Google calls the 6P its most premium phone ever. It has a just under phablet-sized screen, at 5.7 inches, protected by Gorilla Glass 4 with 1440p resolution at 518 ppi. The 6P has a 64-bit Snapdragon 810 processor and a big 3450-mAh battery. The 6P introduces the first Nexus fingerprint sensor and USB Type-C symmetrical fast-charging connector that Google claims will charge the 6P twice as fast as the iPhone 6s Plus. 
The camera could be a very effective competitor to the best-in-class smartphone cameras: the iPhone 6s, Galaxy S6, and LG G4. The 12.3-megapixel camera sensor at f/2.0 aperture with massive 1.55µm pixels with the right software promises to be a flagship competitor. Large pixel features collect more light during shorter exposure times, reducing blurriness from camera or movement, producing better and sharper images. The front-facing camera leads all the flagship phones with an 8-megapixel resolution at f/2.4 aperture.
The 6P can be purchased with 32, 64, or 128GB of storage and comes in Aluminum, Graphite, or Frost. It favorably compares to the iPhone 6s Plus, but costs just $499, about $250 less than the iPhone.
Nexus 5X
LG returns for an encore after creating the original Nexus 5, which proved two years ago that high-quality smartphones could be built at a low cost. The new Nexus 5X is a compact phone with a 5.3-inch screen that feels light and solid and gives the impression that it might withstand a drop better than most phones. The 5X shares the 6P's 12.3-megapixal camera, fingerprint sensors, and USB Type-C. It comes in Carbon, Quartz, and Ice (pale blue).
When smartphones replaced point-and-shoot cameras, smartphone camera quality began to influence smartphone phone buyers. If this new Nexus camera stands up to the flagship competitors, the Nexus 5X's starting price of $379 will influence a lot of buyers.
Pixel C: The first Android Chromebook
The Chromebook Pixel C has been completely redesigned for this brave new world where phones, tablets, and notebooks increasingly perform indistinguishable functions. Android 6.0 running on a tablet with an integrated Bluetooth keyboard held magnetically in place without a kickstand sums up the Pixel C. The form factor makes it easy to switch between keyboard and tablet mode. Android will make a lot of apps available.
There's really no point of reference for this device. Entry-level pricing for the unit with 32GB of storage is $499, and the magnetic keyboard is an additional $149.