(Update 2: The words "probably not" have been removed from the headline on this post because, upon further review, the answer to the question is "almost certainly yes." My bad for even considering the notion that the NFL was being truthful.)
A short video clip from last night's Pittsburgh vs. Baltimore football game certainly appears to show Steelers quarterback Ben Roethlisberger glancing at a cell phone and then stashing it in his pocket, which if true would constitute a violation of NFL rules governing electronic devices and would be called cheating if done by an employee of the New England Patriots.
And some are contending that's exactly what happened.
But I'm not convinced, as much as the Patriots fan in me would like to be.
Here's the clip.
And here's the best screen capture I could get.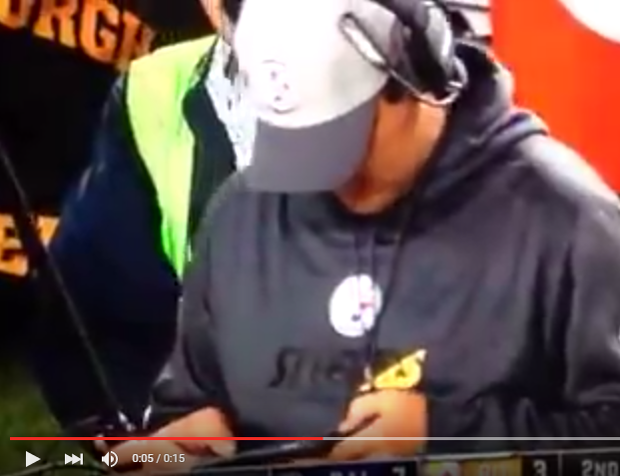 From my vantage point, the end of the object in his left hand looks to curve up a bit and the end in his right hand seems thinner. I'm just not seeing phone.
And neither is the NFL. Tom E. Curran of Comcast SportsNet reports:
On Friday morning, the NFL's Director of AFC Communications, Jon Zimmer responded to my email inquiry saying, "Roethlisberger was holding a black armband with a clear cover that contained the Steelers play sheet. It was not a phone."
Fine. But the way Roethlisberger quickly pocketed the thing and started glancing around sure made him look like a guy who was "generally aware" he had done something wrong.
(Update: I'm glad I used "probably not" in the headline, because the screen grab shown here looks a lot more phone-like than the one I was able to get. I'm sure the upcoming Wells investigation will clear things up, though, he says sarcastically.)
(Update 3: And the screen shot here, unless it's been doctored, removes all doubt: It's a phone.)